Victorian Society calls plans 'unacceptable'
Another heritage group has attacked Everton's proposals for a £500m new stadium in Liverpool's historic docks, a Unesco World Heritage Site.
The Victorian Society said the plans would cause "incontrovertible harm" to the 1844 grade II-listed Bramley-Moore Dock, which closed to shipping last year.
It is the second heritage organisation to condemn the scheme, which would require infilling part of the dock. Historic England last week urged the government to call in and reject the proposals.
The Victorian Society conservation advisor Tom Taylor said: "Considered purely on the basis of conservation policy and principles, the proposals are unacceptable.
"The decision-maker, whether the planning authority or Secretary of State, must be absolutely convinced that this is the only viable site for the stadium and that the predicted public benefits would outweigh the incontrovertible harm should consent be granted".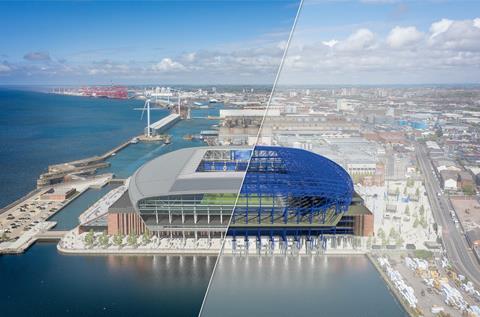 It comes the day after the club submitted revised designs of the scheme to Liverpool ciy council for planning.
Laing O'Rourke is set to build the 52,888-seat stadium if it gets the green light.
Unveiled last month, the new designs have overhauled the stadium's West Stand with a new stepped plaza and the removal of a multi-storey car park. The entire building has also been slightly reduced in height.
Everton stadium development director Colin Chong insisted the scheme, which is due to start on site early next year if approved, was a vibrant development which respects and reflects Liverpool's dockland history and added that the revised designs would "further enhance and showcase the heritage of the site".
But Historic England threw its weight against the plans, urging the government to make the final call on the application and recommending that it should be refused.
It said the proposal to infill the dock would "fundamentally change its historic character as a water-filled basin which so clearly tells the story of the docks and has contributed to its status as a World Heritage Site".
It added that the application should be quashed "unless the decision-maker concludes that the public benefits would outweigh the damage to Bramley-Moore dock and the harm to the World Heritage Site which the proposals would cause".
The application is due to be sent in to Liverpool city council next month, with Chong telling supporters last month that planners may have to convene a special committee later this year to decide on the scheme due to its sheer size – one of the largest applications ever received by the local authority.
Project engineering consultant Buro Happold said this week that the Dan Meis-designed scheme will "preserve the integrity and heritage assets of the surrounding area for future generations".
The firm released images from the scheme's technical architect Pattern showing the underlying structure of the stadium.
Construction is due to start on site in 2021 if given the go-ahead.