Government exempts self-builders from infrastructure levy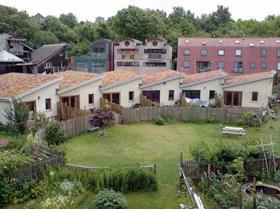 The government has announced it is to exempt all self-builders from the community infrastructure levy in a move it claims will kick-start 3,000 mothballed self-build projects around the country.
The exemption, which comes into force next week, will cover homes that are owner-occupied and built or commissioned by individuals, families or groups of individuals for their own use.
Ted Stevens, chairman of the National Self Build Association welcomed the announcement.
Around one in eight self-build projects has been mothballed over the last two years because of the new levy (CIL), he said.
"We anticipate the exemption will have a significant impact on self-build starts," he added, "with 2,000-3,000 homes coming off the shelf and starting on site in the next few months."
Communities secretary Eric Pickles said: "Building your own home is always a challenge and we are doing what we can to help people realise their dream and provide a home for their family. This change will save self-builders thousands of pounds and help many more in the future.
"By boosting the numbers of people building their own home we can help increase the number of new houses built each year in this country and support local businesses. There are too many levies and charges on housing. By cutting these, we can help build more homes."
Local authorities can charge a CIL on new developments to help fund local infrastructure.
It can add significantly to the cost of building a home. Someone building their own 150sq m four-bedroom house could be liable for £15,000 CIL in an area where the council charges £100 a sq metre for residential development.
Under the changes, extensions and family annexes over a certain size will now be exempt.
The government also intends to consult on removing Section 106 tariff charges from self-build properties too.
Additionally, from April there will no longer be a council tax surcharge on family annexes.