Policy Exchange proposes sell-off to boost housebuilding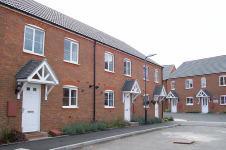 The government should sell-off expensive social housing to boost housebuilding, think tank Policy Exchange has proposed.
In its Ending Expensive Social Tenancies report, Policy Exchange argues the government should sell social homes worth more than the average property in a region as soon as they become vacant.
The think tank claims the move could raise £4.5bn annually, which could be used to build 80,000-170,000 new social homes a year.
Housing minister Grant Shapps described the recommendation as "blindingly obvious".
Alex Morton, author of the report, said: "Expensive social housing is costly, unpopular and unfair. That is why almost everybody rejects it.
"Social housing tenants deserve a roof over their heads, but not one better than most people can afford, particularly as expensive social housing means less social housing and so longer waiting lists for most people in need."