Seven more government departments, including DECC and Cabinet Office, agree budget cuts ahead of spending review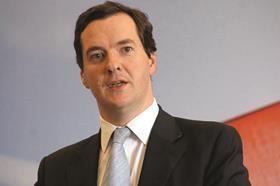 More government departments including the Cabinet Office and the Department for Energy and Climate Change have agreed cuts, Chancellor George Osborne has said.
Seven departments in total have agreed cuts with the Chancellor averaging 24% by 2019-20.
The departments also include HM Revenue and Customs (HMRC), the Scotland Office and Office of the Advocate General, the Wales Office and the Northern Ireland Office.
The cuts mean 11 Whitehall departments have now settled with the Treasury.
Osborne (pictured) said the savings will be achieved through a combination of more efficiency cuts – including the "digital transformation" of the tax system in HMRC's case – including closing low-value programmes, and focusing on "our priorities as a country".
The chancellor made the announcement during a speech on cyber security at GCHQ in Cheltenham.
It comes after two further devolution deals have been agreed.
The West Midlands has agreed a deal with the Chancellor, which will see the region become the first outside of the north of England to sign up to a devolution deal with an elected mayor.
The deal also includes £1bn in central government investment to boost the West Midlands economy.
Meanwhile, Liverpool also has signed a devolution agreement, which includes devolving power over local transport budgets and franchised bus services, as well as increased responsibility over employment support and skills provision.
The deal also includes a government investment of £900m over 30 years to boost economic potential from the Liverpool2 super port on the River Mersey, and capitalise on opportunities from HS2.