McDonnell tells Building he has concerns about HS2 route, and uses conference speech to pledge infrastructure spending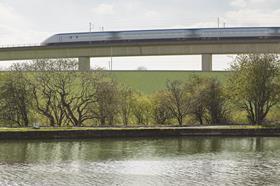 The shadow chancellor John McDonnell has voiced concerns about HS2 after his first speech in the high profile role at the Labour party conference in Brighton.
When asked about the party's position on HS2 by Building, McDonnell said: "At the moment the party has voted for HS2. But I voted against it. HS2 hasn't been able to tell me what route it will take through my constituency."
A spur of the high speed line is earmarked to go through McDonnell's constituency of Hayes & Harlington in South-west London on the way to Heathrow airport, leading McDonnell to oppose the scheme in the past.
Building also asked McDonnell for his views on the extension of Right to Buy to housing association properties - with housing associations facing an ultimatum to sign up to the policy by the end of this week. McDonnell said he opposed the policy: "We shouldn't be selling houses when we have the housing crisis."
In his speech at the party conference, McDonnell said a Labour government would turn the Department for Business, Innvoation and Skills (BIS) into a "powerful economic development department" with responsibility for ploughing funds into infrastructure improvements.
McDonnell told delegates Labour would put BIS rather than the Treasury in charge of "public investment, infrastructure planning and setting new standards at work for all employees".
His reasoning for this departure: "Well, we just don't think the current model can deliver".
McDonnell also launched the Economic Advisory Committee to advise Labour on the development and implementation of its economic strategy. Members of this group have already been revealed to include economists Joseph Stiglitz, Thomas Piketty and David Branchflower.
He added that Labour will "use active monetary policy to stimulate demand where necessary," alluding to the recently dubbed "People's QE".
Yet at a fringe meeting earlier in the day hosted by RICS, Wayne David, shadow minister for the cabinet office, justice and Scotland, could only respond with "I don't know" when asked if Jeremy Corbyn's People's Quantitive Easing concept would be used to fund infrastructure projects and new housing.
This follows Dr Roberta Blackman-Woods commenting that she would need to see more detail on the possibility Peoples Quantative Easing being used to fund social housing.
David added that Jeremy Corbyn's new political world had seen everything "thrown up in the air" and believes it would be " foolhardy to speculate at this stage" on what the party's policies and views on infrastructure will be.
McDonnell in his speech touched on the renationalisation of railways lambasting the tories for criticising Jeremy Corbyn's proposal to return rail to public ownership while selling off British assets to China.
"It seems the state nationalising our assets is ok with the Tories as long as it's the Chinese state or in the case of our railways the Dutch or French."
Meanwhile David gave his personal backing to HS2 albeit with "reservations" and a third runway at Heathrow.
David said HS2 was fundamental in creating a "balanced economy" in the UK and considers that a new runway has "economically speaking" to be at Heathrow if the country is to develop.
He added that Heathrow expansion would enhance "Welsh economic development," particularly if done in conjunction with a high speed rail service.
David admitted though that there are "wide differences of opinions" on the subject of Heathrow expansion within the Labour party.
When questioned about the 2013 Independent Armitt Review of Infrastructure report commissioned by the Labour party, David said it was "fundamentally important" and expects to see it influence policy going forward.