Exclusive: Opening of Shangri-La's first UK hotel pushed back by six months, after delays to £40m fit-out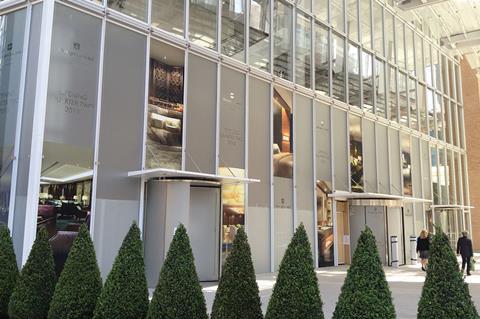 The opening of the luxury Shangri-La hotel at the Shard skyscraper in London has been put back by at least six months, following delays to the fit-out, Building can reveal.
Delays to the £40m fit-out programme of the 202-room hotel - situated between floors 34 and 52 of the tower - have pushed the opening date back from the second quarter of this year to the fourth.
Industry sources close to the project, which is hotel company Shangri-La's first hotel in the UK, said it was running at least six months behind schedule.
One source said design changes during the programme were a factor in the delay.
Sisk Group is the contractor on the job, Sweett Group is contract administrator and Gardiner & Theobald is quantity surveyor.
Shangri-La declined to comment on the reasons for the delay, but confirmed it had pushed back its planned opening date to the fourth quarter of 2013.
Several windows surrounding the hotel entrance (pictured) on St Thomas Street in London Bridge are still emblazoned with the original opening date.
The five-star hotel - which Shangri-La says will bring a "uniquely Asian view of service" to London - includes three dining venues, a gym with infinity pool and meeting and events facilities.
The hotel takes up the middle third of the Shard, with the lowest third taken up by offices and the top third private apartments, crowned by a public viewing gallery.
The first leisure venue at the Shard, the 32nd-floor Oblix restaurant, opened last month, with two further restaurants, 33rd-floor Hutong and 31st-floor Aqua Shard, opening this month and next respectively.
Most of the Shard's 590,000ft2 of office space is still available, although financial services firm Duff & Phelps took the first letting of 18,000 ft2 on the 22nd floor last month.
The Shard hotel is part of Shangri-La's global expansion drive.
A Shangri-La spokesperson said: "With every major hotel opening delays can occur. We look forward to being able to communicate the confirmed opening date in due course."
Sisk Group, Gardiner & Theobald and Sweett Group declined to comment.