Exclusive: Luxury hotel 'unlikely' to open fully this year as contractor after Sisk is replaced on £40m fit-out project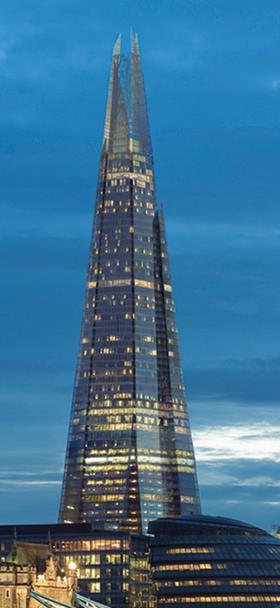 The luxury Shangri-La hotel at the Shard skyscraper in London is unlikely to fully open until next year because of ongoing delays on the fit-out, Building can reveal.
Fit-out delays caused Shangri-La to replace the contractor on the £40m fit-out job, Sisk, with rival Chorus Group this week. Earlier in the year the client pushed back the official opening date from the second to the fourth quarter.
According to three separate sources close to the job, the ongoing delays now mean Shangri-La is struggling to meet its revised fourth quarter launch date.
One source said a fourth quarter opening "does not seem likely", while another thought the hotel was unlikely to open until between February and April next year.
A further well-placed source said Shangri-La would set an opening date "after talking with [new contractor] Chorus" and in his view only "some of it […] may be ready for a soft launch" by the fourth quarter.
This source added that Sisk was replaced because "the main issue was they weren't complying with the programme" and "weren't making enough progress quickly", while there were "issues with programme, quality and cost - all the usual issues with a job".
Building also understands that one reason for the delay is problems with the fitted stonework in the bathrooms of some of the 202 rooms, a number of which will have to be refitted.
A spokesperson for Sisk said: "John Sisk & Son always works with the highest professionalism and in line with pre-agreed timelines.
"We were looking forward to bringing this project to its completion but it was delayed for reasons out of our control."
This week Shangri-La updated its website to replace the Shard hotel's expected opening date from "Fourth Quarter" to "Opening Soon".
When contacted this week, Shangri-La declined to clarify when the hotel would now open.
The five-star hotel is situated between floors 34 and 52 of the tower and Shangri-La says it will bring a "uniquely Asian view of service" to London.
The hotel – which includes dining venues, a gym with infinity pool and meeting and events facilities – takes up the middle third of the Shard, with the lowest third taken up by offices and the top third private apartments, crowned by a public viewing gallery.
A Shangri-La spokesperson said: "Shangri-La Hotel at The Shard has decided to end their relationship with the present contractors for the fit-out of the hotel.
"A new contractor has been appointed to complete the work. Shangri-La Hotel at The Shard is fully committed to opening and running their latest European hotel."