Council will begin procurement for investors and developers to kickstart scheme this summer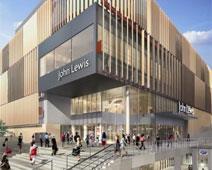 Sheffield council will begin the procurement process for investors and developers this summer to kickstart its long-awaited £300m city centre retail quarter scheme, a senior council official has revealed.
Nalin Seneviratne, Sheffield council's director of capital and major projects, told a Built Environment Networking event in Sheffield last week that work on the new retail quarter could begin as early as next Spring, with completion scheduled for 2019.
The 700,000 sq ft retail quarter has been stalled since the 2008 downturn and the scheme's last development partner Hammerson exited in summer 2013.
Seneviratne said the council plans to begin the procurement process for investors and developers at the "back end of this summer" with a view to starting enabling works next Spring and full works next Summer.
He said the council hopes to "take advantage of the momentum building" in the retail sector, but said it was "building in flexibility" due to the sector's volatility.
The council will present plans to buy up the £55m of property needed to make way for the scheme to its cabinet for approval imminently.
The scheme is backed by an agreement with central government for £50-60m of finance.
Seneviratne said the council would intervene in other Sheffield schemes with investment or funding guarantees to kickstart developments.
He said: "It's about the council taking a lead and also more importantly taking a risk to work with the private sector in innovative ways to bring forward development.
"The council will commit resources [to do that]. As the market recovers we're conscious we need to increase the pace of city centre development."