Initiatives include head of compliance, confidential hotline, staff clear out and review of division by law firm
A new head of compliance, a 24-hour confidential hotline for worried staff and a clear out of management at its UK insulation boards business are among the initiatives being taken by Kingspan after weeks of damaging headlines about its conduct at the Grenfell Tower Inquiry.
The firm also said it had drafted in law firm Eversheds Sutherland to review its UK insulations boards business.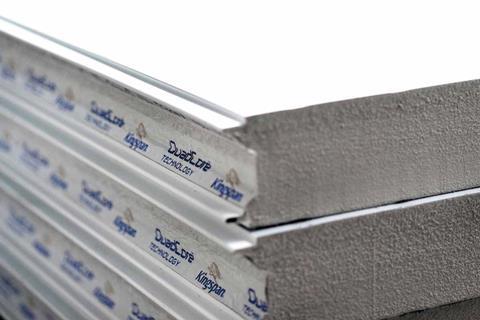 Kingspan said the Grenfell Inquiry's evidence had highlighted 'unacceptable employee conduct' at the firm
"[This review is] to ascertain how the issues occurred, what changes have been made by the business, and what further actions should be taken," it added.
The measures, announced as the firm unveiled its 2020 results this morning, are being introduced to tackle the behaviours which surfaced in shocking testimony at the inquiry last year.
The firm's Kooltherm K15 insulation product was not specified for the refurbishment, which mostly used Celotex insulation, but after 2017's fire it was found to have been installed behind the ACM cladding on some parts of the block.
Last November, the inquiry into the fire, which killed 72 people, was read a series of emails from Kingspan technical manager Philip Heath who said a facade consultant could "go fuck themselves" after the specialist advised contractor Bowmer & Kirkland that K15 was not suitable for use on high-rise buildings.
In another email, forwarded to a friend, Heath suggested Bowmer & Kirkland was "getting me confused with someone who gives a dam [sic]".
A few days later the inquiry was shown a series of private messages between two of Kingspan's technical team in which they joked about telling lies about their products' safety.
The inquiry heard the test Kingspan relied on to market K15 for buildings over 18m was carried out in 2005, on an "old technology" version of K15.
Former technical project manager Ivor Meredith told it that it was "common knowledge" the K15 product had been using a fire test report for a different product.
Kingspan wrote to the Building Research Establishment last October to ask for the test to be withdrawn, prompting inquiry barrister Richard Millett QC to accuse it of acting in a "dishonest and disreputable way" by continuing to sell Kooltherm K15 insulation for 14 years using a safety test certificate for a previous version of the product.
Millett accused the firm of "placing the safety of occupants of buildings with K15 on them at serious risk".
> Also read: Kingspan staff joked 'all we do is lie' about products' fire safety
> Grenfell Inquiry: Another uncomfortable week for Kingspan
The evidence prompted housing secretary Robert Jenrick to announce last month plans for a new Construction Products Regulator after becoming concerned by the inquiry's "deeply disturbing allegations of malpractice by some construction product manufacturers and their employees and of the weaknesses of the present product testing regime".
Kingspan admitted today the inquiry had thrown a light on "unacceptable employee conduct at its UK Insulation Boards business, and historical process shortcomings by this business", adding that it had "rightly been criticised".
To tackle this, it said it appointed a group head of compliance and certification who reports directly to chief executive Gene Murtagh, changes to its divisional and UK senior management at its insulation boards business and a 24-hour confidential code of conduct hotline for concerned staff under its 'Speak Out' initiative.
It said it has begun rolling out a group-wide product information management initiative to ensure accuracy of all product information while it is setting up a state-of-the-art fire test centre in north Wales which "will be made available to the wider industry for research purposes".
And it said it would be publishing all its BS 8414 test reports, whether they passed and failed, adding it has retested the three BS 8414 tests it withdrew and validated the original claims using current K15.
It said: "Kingspan is engaged with the appropriate stakeholders on matters relevant to all K15 legacy marketing and testing issues on an ongoing basis. Kingspan has reviewed the remainder of its Kooltherm range and has not identified issues of either safety or materiality."
It holds 15 BS 8414 tests using the current K15 product but the firm said where the "existing suite of BS 8414 tests does not support that use, then Kingspan is fully committed to acting swiftly to evaluate what action is required, and to providing remediation as appropriate. Kingspan is already actively providing support on legacy projects."
Meanwhile, the firm said it has paid back all the €17m (£14.7m) it received in furlough payments from several governments because of the covid-19 pandemic after better than expected trading last year. Revenue in 2020 was down 2% to €4.6bn (£4bn) with pre-tax profit edging up 1% to €460m (£399m).
Kingspan said its chairman Eugene Murtagh, who set up the business in 1965, is stepping down later this year. Murtagh, who turns 79 this summer, will leave after the firm's AGM at the end of April. He was chief executive until 2005 before being succeeded by his son Gene.