Latest IHS/CIPS says growth in output was at weakest since February
Construction's recovery from the pandemic cooled last month with materials shortages, problems getting hold of lorry drivers and subcontractor availability all being blamed for the fall from June's 24 year record.
The latest PMI data put together by IHS Markit and CIPS said total activity for July stood at 58.7 – down from the 66.3 figure recorded the previous month.
It means the month had the slowest overall increase in output since February although the number was still well ahead of the 50 no-change mark.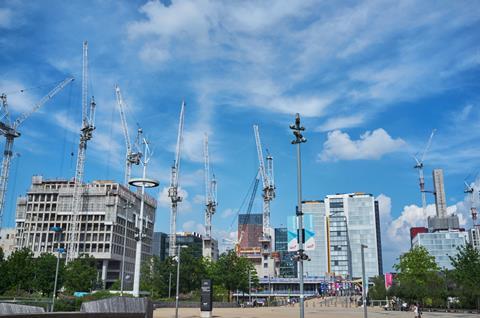 The survey said that 66% had reported longer wait times for deliveries of materials and goods with port congestion, lack of lorry drivers and Brexit trade frictions being blamed.
Jan Crosby, head of building and infrastructure at KPMG, said: "Lorry driver shortages mean stock that does arrive here in the UK is often delayed further due to logistical setbacks and on site construction slows down when workers need to self-isolate. This is creating a catch-22, which could impact how well the sector recovers and grows over the coming months."
And Max Jones, a director in Lloyds Bank's infrastructure and construction team, said the problems were showing up the buying power of bigger firms compared to their smaller peers.
He said: "Contractors better placed to deal with any shortages are those with the balance sheets to plan ahead in advance and buy up supplies to shore up pipelines further down the line. This contrasts against those small players who focus on the job at hand and don't tend to have deep enough pockets to buy up stock ahead of time."
Falling availability of subcontractors was the second highest since the survey began in April 1997, topped only in April last year when the country was in the grip of the first national lockdown.
And 81% said costs went up during the month as supply shortages sent prices heading north while trying to get hold of subcontractors – who were themselves reporting labour shortages – also jacked up costs.
Housebuilding was the best performing sector with a reading of 60.3 followed by an ongoing resurgence in commercial work with a score of 59.2.
But expansion in both was the weakest since February with a post-lockdown spike in customer demand also thought to be behind the slowdown along with materials and labour shortages. With a score of 55, civil engineering growth was the lowest for five months.
Tim Moore, economics director at IHS Markit, admitted: "It was unsurprising that UK construction companies were unable to maintain output growth at the 24-year high seen in June, especially with widespread supply shortages and constrained capacity to take on additional orders."
Others were more pessimistic with Duncan Brock, group director at CIPS, saying the figures laid bare construction's familiar problems of getting hold of staff – which had been exposed as supplies of materials dwindled.
He added: "Faced with transport disruptions, shortages of essentials and Brexit delays, the initial spurt of activity this year is fast hitting the rocks. It is difficult to foresee when all these challenges are likely to subside."