Three firms to be shortlisted with deadline for expressions of interest less than four weeks away
The race to find a single development partner for a £2bn framework for the design and construction of leisure centres across the UK has officially begun.
Firms have just over four weeks to send in expressions of interest in the four-year UK Leisure Framework, which will be open to all UK public sector bodies.
Apart from leisure centres, types of potential leisure projects could include stadiums, cinemas, ice rinks, libraries, theatres, auditoriums, restaurants, canteens and pavilions.
A maximum of three firms will be shortlisted for the huge deal, with invitations to tender due to be sent out on 12 August.
Hosted by Wales-based leisure centre operator Denbighshire Leisure Limited (DLL), it is the third iteration of the giant framework and more than double the maximum value of the last iteration.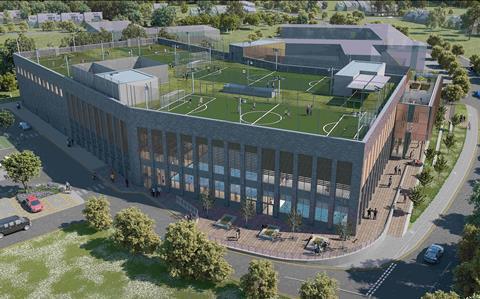 The current £750m framework, which is scheduled to end next January, was awarded to leisure centre developer Alliance Leisure Limited in February 2017.
Projects procured through the current framework include the £20m White Oak Leisure Centre in Sevenoaks, Dudley's £17.4m Dudley Leisure Centre, and the £14m Chard Leisure Centre in Somerset.
In a contract notice published this week, DLL said it was seeking a firm which can supply all aspects of leisure centre development, including design, construction, project management, supply of equipment, staff training and marketing.
Meanwhile, plans to build the UK's first passivhaus leisure centre in Staines-upon-Thames, Surrey, have been given the green light.
GT3 Architects and passivhaus designers Gale & Snowden said the building would use up to 60% less energy than traditional new build leisure centres.
The scheme will include rooftop sports pitches, swimming pools, a spa, sports hall, a gym, studios, a climbing wall and a cafe.
The project team includes project manager Gleeds, structural and civil engineer Engenuiti, M&E consultant Van Zyl & de Villiers and QS Faithful & Gould.