Tim Hare wins construction manager of the year for work on £165m redevelopment of Regent Palace Hotel in Piccadill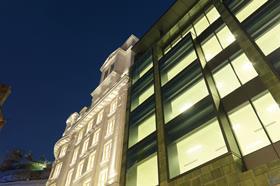 A construction manager at contractor Sir Robert McAlpine has been awarded the title of Construction Manager of the Year by the Chartered Institute of Building.
Tim Hare was given the title for his work on the £165m redevelopment of the grade two listed Regent Palace Hotel in Piccadilly, London into office, retail and residential space.
The project, called Quadrant 3, was delivered four months ahead of schedule and 20% under budget with no accidents to staff. To do this the team had to complete one of London's biggest asbestos removal jobs and deal with a permanently flooded basement while maintaining the building's art deco finishes.
The task was completed using BIM on all structures and services to avoid clashes, aid prefabrication and safety.
Chris Blythe, chief executive at the CIOB, said: "Tim's achievement was made more brilliant by the manner in which he earned it. Quiet, level headed and sure, he dominated the project through collaboration.
"He recognised the contribution each member of his team and the wider site workforce could make, and gave them the space and the belief to give their best."
Full list of 2012 Winners
New Build & Refurbishment over £100m
GOLD: Tim Hare, Sir Robert McAlpine
Quadrant 3, London W1
SILVER: Michael Breton, Sir Robert McAlpine
London 2012 Olympic Stadium
New Build & Refurbishment £40m – £100m
GOLD: John Birch, Skanska
UCH Macmillan Cancer Centre, London W1
SILVER: Malcolm Emmerson, Geoffrey Osborne
West Thames College, Isleworth
New Build & Refurbishment between £23m – £40m
GOLD: John Brennan, Skanska
All Saints Academy, Cheltenham
SILVER: Johnpaul Allen, Interserve Construction
Rowley Learning Campus, Rowley Regis
New Build & Refurbishment £17m – £23m
GOLD: David Rowsell, Wates Construction
Kingston Business School, Kingston University
SILVER: Matthew Stagg FCIOB, Walter Lilly & Co
1 Cornwall Terrace, London NW1
New Build & Refurbishment between £13m – £17m
GOLD: Phillip Cracknell MCIOB, Willmott Dixon
Haggerston School, London E2
SILVER: Bill Lowe, Sir Robert McAlpine
Grandstand, Royal Military Tattoo, Edinburgh
New Build & Refurbishment between £8m – £13m
GOLD: Mark Powell MCIOB, Wates Construction
Campsmount Technology College, Doncaster
SILVER: Andrew Miles MCIOB, Willmott Dixon
General Offices, Ebbw Vale, Gwent
Refurbishment between £5m – £8m
GOLD: Kevin O'Brien, Leadbitter Group
Earlsdon Park, Coventry
SILVER: Renaud Faral, Bouygues UK
College Park School, London W2
Refurbishment between £3m – £5m
GOLD: Christian White ACIOB, Baggaley Construction
Wyre Forest Crematorium & Cemetary, Kidderminster
SILVER: Richard Anderson ICIOB, Midas Construction
Little Harbour Children's Hospice, St Austell
New Build & Refurbishment up to £3m
GOLD: Ryan Williams MCIOB, Kier Construction
Ysgol Gyfun Maes Yr Yrfa, Llanelli
SILVER: Elizabeth McCartney, Kier Construction East Midlands
Mansfield Central Library
Housing & Accommodation over £8m
GOLD: Edward Biddle MCIOB, Vinci Construction UK
Bagot Street Student Accommodation, Aston
SILVER: Gary Weir, CCG (Scotland)
Blocharin Place, Glasgow
Accommodation below £8m
GOLD: Gordon Dodd, Leadbitter Group
Alexandra Place, Woodley
SILVER: Troy Cooper ICIOB, Baxall Construction
Sea Gem, Camber Sands