Money to be used to attract further financing from private investors
Plans to build the Sizewell C nuclear power plant in Suffolk have taken a step forward with £100m in new government funding, the business department has announced.
The money will be used to advance the development of the £20bn project and attract further financing from private investors and the government, if the scheme is given the go ahead.
Ministers have committed to approving one full-scale nuclear power plant during the lifetime of the current parliament, which runs until 2024.
The latest cash injection provides further evidence that Sizewell C is the plant which the government wants to build.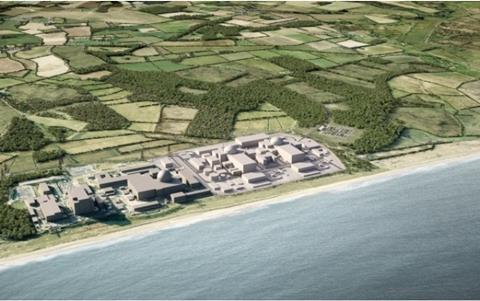 The reactor, which would be a near replica of the Hinkley C plant currently under construction in Somerset, would generate enough energy to power around six million homes and provide around 7% of the UK's energy needs.
Business secretary Kwasi Kwarteng said: "In light of high global gas prices, we need to ensure Britain's future energy supply is bolstered by reliable, affordable, low carbon power that is generated in this country.
"New nuclear is not only an important part of our plans to ensure greater energy independence, but to create high-quality jobs and drive economic growth.
"The funding announced today will further support the development of Sizewell C during this important phase of negotiations as we seek to maximise investor confidence in this nationally significant project."
The funding has been handed to the site's developer EDF in the form of an option fee, with the government taking certain rights over the Sizewell C site and EDF's shares in the project company in return.
If the scheme goes ahead, the government will be reimbursed either with cash or an equity stake in the project.
If it gets scrapped, the money will be paid back either in the form of the site, shares in the Sizewell C company or it will be refunded by EDF.
Last year, the government injected £210m into a new firm created by Rolls Royce to develop new designs for small modular reactors.
Up to 16 of the plants, which would cost around £2bn each, could be built across the UK.
Each plant could generate 470MW of power, equivalent to more than 150 onshore wind turbines and enough to power around one million homes.