On-site installation will take just 10 weeks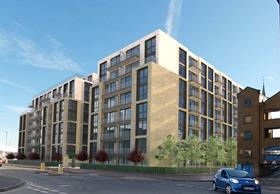 A modular private housing scheme in Berkshire has been given the go-ahead.
The Slough project, which is being developed by Click Properties, was given the green light to deliver around 238 homes.
Construction will start this October with a projected completion in mid 2019.
The build will take place off-site, with the homes delivered to site, before being craned on and installed.
The on-site installation of the 600 modular units will take just 10 weeks.
Aaron Emmett, chief executive at Click Properties said: "With the £600m Heart of Slough regeneration fund as well as Crossrail arriving in 2019, Slough is undergoing a renaissance."
The Aspire development, at Herschel St, will include 50 affordable homes and will feature studio, one, two and three bed apartments with a number of penthouses.