Government wants to assess five years of data before deciding whether to press on with initiative blamed for number of deaths
The government has said plans to build more smart motorways has been paused while their safety is assessed.
It means proposals to work on upcoming schemes such as the M40/M42 interchange, due to be carried out by a Bam and Morgan Sindall joint venture, and on the M25 between junctions 10 and 16, worth up to £400m, will be suspended.
Critics say the system, which uses the hard shoulder as a permanent live traffic lane, has contributed to road deaths.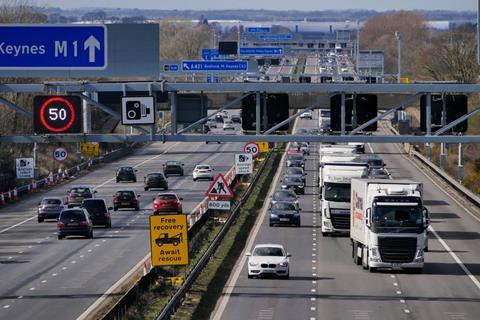 Five years of safety and economic data for the schemes will now be collected from the motorways built before 2020.
Last November, a report by MPs on the transport select committee said there was not enough safety and economic data to justify using smart motorways.
According to government figures, 38 people were killed on smart motorways between 2014 and 2019.
Transport secretary Grant Shapps said: "While our initial data shows that smart motorways are among the safest roads in the UK, it's crucial that we go further to ensure people feel safer using them."
The government said it will look at how controlled motorways, which have a hard shoulder, compare with all-lane running ones.
In the event drivers break down, they are meant to try and park in emergency refuge areas which are spaced around a mile apart although they are supposed to be around half a mile apart where possible. As part of its review, the government will invest an extra £390m to install more than 150 additional emergency areas.
National Highways says there are roughly 400 miles of smart motorway being used with around half lacking a hard shoulder.
Other schemes set to be put on hold by the decision include work on the M3 between junctions 9 and 14, a £140m deal due to be carried out by Balfour Beatty, and a £390m project on the M62 between junctions 20 and 25.
Schemes already on site such as that taking place on the M1 on a 23 mile section between junction 13 and 16, now in its fourth year of work, will continue to a finish. The £373m scheme is being carried out by a Costain and Galliford Try joint venture and is finally set to wrap up next year.