First minister Nicola Sturgeon pledges SNP sets 50,000 target if party gets re-elected to Scottish Parliament next year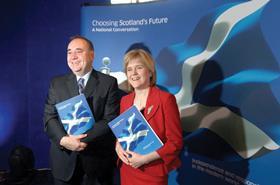 Scotland's first minister Nicola Sturgeon has pledged that the Scottish National Party will build 50,000 new affordable homes during the next four-year Scottish Parliament should it be re-elected next year.
Sturgeon (pictured, right) told the Scottish National Party (SNP) conference in Aberdeen that her party would boost affordable housebuilding if it wins the elections in May next year.
In her keynote speech at the conference, Sturgeon said: "Making sure that everyone has a safe, warm and affordable home is central to our government's drive to make this country fairer and more prosperous.
"Our plans must be affordable. But they must also be ambitious.
"I am therefore announcing today a bold new commitment. If we are re-elected next May, our target in the next parliament will be to build at least 50,000 new affordable homes."
Sturgeon said there would be a £3bn funding pot for the commitment.
Reacting to Sturgeon's announcement, Philip Hogg, chief executive of housebuilding trade body Homes for Scotland said: "We are delighted at the importance the first minister has attached to housing and think that the new shared equity scheme announced in her programme for government could make a big contribution to increasing the supply of affordable housing, whilst also helping to meet the home ownership aspirations of the majority of those living in Scotland.
He added: "Targeting scarce resources to ensure we have enough warm, sustainable homes of all types to meet the housing aspirations, whatever these may be, of Scotland's people is fundamental to achieving the first minister's goal of improving opportunity for all."