Contractor posts profit warning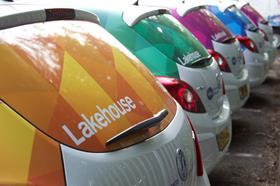 The government's squeeze on social landlords has hit trading at listed contractor Lakehouse and prompted the firm to post a profit warning.
Lakehouse said in a trading statement this morning that "funding pressures" on social landlords - which it said was caused in part by the government's imposition of 1% rent reductions per annum - had resulted in worse profit than expected in its regeneration and energy services divisions.
Stuart Black, executive chairman of Lakehouse, said: "Following our successful maiden results as a public company, we have seen recently, a number of headwinds facing our markets come together to impact our business.
"I am confident that having built a group with a range of services that allow us to help our clients address their operational and financial needs, we remain well placed to overcome these challenges."
Lakehouse's trading update covered the period from 1 October last year to date.
Lakehouse said the government's 1% per annum rent cut for social landlords had led to some clients holding back on expenditure commitments until budgets are confirmed in 2016.
The pressures on social landlords are also affecting the group's energy services arm where it is having to squeeze margins on insulation contracts.
Lakehouse added that delays in the roll-out of the smart meter programme means that it "no longer expect to see any domestic smart metering work of note to take place by September 2016".
The firm said despite challenging trading in its regeneration and energy services divisions, the firm's compliance division was performing in line with expectations.
Lakehouse added that "its strong bidding success" had continued since the start of the year, increasing its number of framework contracts by 22%, from 181 to 221.
In Lakehouse's first set of full-year results after listing on the London stock exchange last March, the firm posted a strong increase in both pre-tax profit and revenue for the year to September 2015.
Pre-tax profit increased to £3.2m, up from £100,000 the previous year, while revenue was up 13% to £340.2m, up from £302.5m.
Expansion has partly been fuelled by acquisitions, including six firms bought in 12 months.