Housing was the most resilient sector last month
UK construction output was still significantly down in May but has bounced back from the all-time low posted in April.
According to the IHS Markit/CIPS UK Construction PMI survey, the softer pace of decline than the record slump seen in the previous month, largely reflected a gradual reopening of construction sites as lockdown measures were eased in England.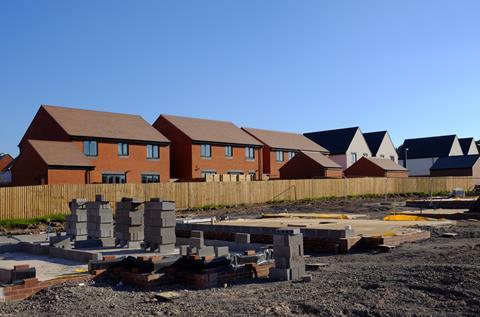 At 28.9 in May, the headline seasonally adjusted activity index picked up from 8.2 in April but was still the second lowest since February 2009. Any figure below 50.0 indicates an overall decline in output.
Around 64% of those surveyed reported a drop in construction activity during May, while only 21% signalled an expansion.
Construction companies recording a fall in activity during May said furloughed staff across the supply chain, as well as prolonged business closures in other parts of the economy and disruptions from social distancing measures on existing projects were to blame.
Tim Moore, economics director at IHS Markit, which compiles the survey, said: "It seems likely that construction activity will rebound in the near-term, as adaptations to social distancing measures become more widespread and the staggered return to work takes effect.
"However, latest PMI data pointed to another steep reduction in new orders received by UK construction companies, with the pace of decline exceeding the equivalent measures seen in the manufacturing and service sectors."
Max Jones, infrastructure director at Lloyds Commercial Bank, said one upside was pent-up demand in construction.
He said: "Public sector infrastructure projects such as HS2 are helping to reboot activity as contractors involved benefit from the added financial certainty government backing offers. Having said that, it's far from plain sailing.
"Adjusting to social distancing on sites and the resultant dip in productivity coupled with the risk of failures in the supply chain make it a complex picture."
Residential work was the most resilient category in May, with the index sitting at 30.9, followed by civil engineering at 28.6.
Commercial building also fell at a slower pace during the latest survey period but was the worst performing broad area of construction at 26.2.
May data also indicated a rapid drop in new orders received by UK construction companies, which was almost exclusively attributed to covid-19 pandemic.
Moore said: "Survey respondents often commented on the cancellation of new projects and cited concerns that clients would scale back spending through the second half of 2020, especially in areas most exposed to a prolonged economic downturn."
Survey respondents pointed to a sharp decline in demand for new construction projects, although some noted that the reopening of sites had helped to alleviate the scale of the downturn in order books.
Jan Crosby, UK head of infrastructure, building and construction at KPMG, said: "Housing sales are restarting and, for the most part, are experiencing a continuation of the pent-up demand that existed pre-lock down.