Feilden Clegg Bradley's plans on hold for three months, following Boris Johnson's opposition to plans to replace skateboard park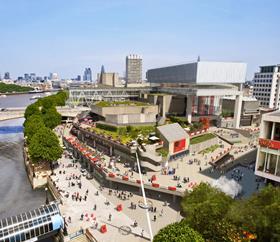 Feilden Clegg Bradley Studios' £120m redevelopment of the Southbank Centre was today fighting for its life after the arts complex said it would suspend sending in the planning application for the work for three months.
It was due to be originally herad this month but the centre said it was withholding the application while it attempts to find a way of funding the scheme without moving the skateboarders.
The decision was made in response to Boris Johnson's remarks that skateboarding should remain in the undercroft. The mayor will have the final say on whether the scheme goes ahead.
This space was due to be converted into commercial units in a part of the plan which the directors said was a critical to its viability.
The news puts the entire Festival Wing redevelopment in doubt. Southbank chairman Rick Haythornthwaite today threatened to abandon the plan."This is a big setback to a scheme which would serve millions if completed," he said.
"The case for closing the project down right now is compelling but we feel we owe a last-ditch revival attempt to the many people that have supported us over the past four years of planning, not least the Arts Council England.
"Boris Johnson and Lambeth council have both made clear that they wish to see the scheme proceed and we look forward to hearing their ideas.
"But we are under no illusions. We have been handed a massive challenge and we don't yet see how we will make it work. It is not as if we haven't already explored numerous options."
He said the battle had never been with the skateboarders – who have been offered an alternative space designed by SNE and Rick Mather Architects.
"The battle has always been against the economics of bringing a set of crumbling and inefficient buildings into the 21st century, in the context of declining public funding," he said.
He appealed for help from everyone who cared about the centre's arts programme and the buildings, which need significant refurbishment and repair.
A statement issued this morning said: "It is far from clear how the scheme might now proceed without exposing Southbank Centre to unacceptable levels of financial risk but it has committed to a final three-month search."
Antony Gormley wrote last year that the brutalist complex should be bulldozed rather than subjected to FCBS's proposals.
The planning application has already been suspended once – last year – when the directors asked for more time to consider how to accommodate the skateboarders. That led to the SNE proposal.