Four residential towers on south London estate to get full make-over, says local authority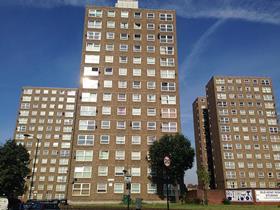 Tower blocks on the troubled Ledbury estate in Peckham, south London, whose tenants complained of cracks and building defects in the wake of last year's Grenfell fire, are to undergo a complete overhaul by the local council.
Southwark council has unanimously backed a report which recommends a refurbishment of the estate's towers – Sarnsfield House , Bromyard House, Peterchurch House and Skenfrith House – with part of the funding for the works coming from a deal to allow houses to be built on land adjacent to the estate, half of which will be earmarked for council tenants.
Remaining costs would be met from the council's ring-fenced housing fund, the Housing Revenue Account, it said.
The council said a lot of the refurbishment details need to be worked out and it had yet to reveal who will build the homes on the neighbouring site.
Southwark said it was proposing to carry out the refurbishment of Bromyard using an existing partnering contract and delegated approval process with French-headquartered energy and refurb specialist Engie, while it was recommended the rest of the scheme went ahead using "existing frameworks or the partnering contract, the new contractor framework if in place, or a traditional procurement route, all activities to be run concurrently to ensure all homes can be provided as soon as possible".
The Ledbury tower blocks, which contain 224 flats, had been the subject of a residents' campaign to have a series of structural problems addressed before last year's Grenfell tower fire. Following that tragedy, Ledbury residents stepped up their calls to have their homes repaired and, amid fears of fire spreading through, the towers' gas supplies to the buildings were cut off.
The council said it has spent around £4.2m on emergency works, security, running costs including oil and boiler hire for a temporary heating system, a 24 hour fire warden service and moving expenses for residents.
Earlier this year independent experts investigating cracks and gaps in the towers called for the 1960s development to be demolished.