Detailed analysis of controversial Carillion payment plan claims subbies risk being left with 120 day payment terms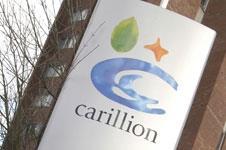 Subcontractors signing up to Carillion's controversial 'early payment' scheme risk being left with payment terms of 120 days if the scheme is terminated, according to a detailed study by the National Specialist Contractors Council.
The investigation by the NSCC into Carillion's Early Payment Facility (EPF), which uses bank finance to pay subcontractors early in return for a small charge, claims the system sets subcontractors' contractual right to payment back to 120 days after receipt of invoice.
In addition, the NSCC claims contractors risk being left without any contractual or written guarantee of being paid for work more quickly than 120 days.
Carillion, which has previously used 65 days as its standard payment term, says the scheme allows it to pay subcontractors earlier than it previously has, often at no extra cost to the subcontractor.
A spokesperson for the company said that if there were any fundamental change to the EPF Carillion would "seek to renegotiate terms with its suppliers to ensure that our terms remain attractive and competitive with the rest of the market, so that our suppliers are not disadvantaged and we maintain a strong supply chain."
The NSCC's study is understood to be based on a standard set of documents, and it is understood that individual contracts with specific suppliers may vary and may include additional terms.
Carillion's EPF works through a finance agreement with either Lloyds Bank or the Royal Bank of Scotland whereby suppliers can receive payment earlier than 120 days by paying a small finance charge.
Under Carillion's Supplier Incentive Scheme (SIS), launched alongside the EPF, it assures suppliers that they will be able to have any charges incurred on meeting their existing payment terms refunded. Further more, it will refund charges on suppliers who wish to reduce their payment terms to 45 days.
The NSCC investigation agrees that this is the way the scheme is currently working, and welcomes the fact it is allowing some subcontractors to be paid earlier than previously.
However, the NSCC says this pledge to refund charges for payment at 45 days is also not contractually documented in the documents it has seen, which it claims means it could be altered or withdrawn at any time.
The NSCC also stresses that even Carillion's prior payment terms were worse than normal industry practice. Under the Late Payment of Commercial Debts Regulations 2013 businesses are expected to pay their suppliers within 60 days on private contracts and 30 days on public sector contracts.
The NSCC's review says: "Carillion has stated that it is currently reimbursing all bank charges paid by suppliers who reduce their actual payment terms to 45 days but this is not contractually documented anywhere.
"Specialist contractors should be aware that the fact that the Supplier Incentive Scheme is not contractually documented anywhere and may be subject to review 'in line with market conditions", meaning that Carillion could withdraw it at any time or reduce the amounts payable."
The NSCC says that in its view specialist contractors would in that situation either have to accept payment on 120-day terms or pay bank charges for taking early payment.
However, a Carillion spokesperson said: "Carillion agrees with its suppliers that it will make incentive payments, but does not publish details of individual supplier agreements, because these are commercially confidential.
If a supplier chooses to adopt the Early Payment Facility, or chooses to use its own facility, the incentive payments effectively ensure that the supplier continues to receive payments in line with the terms they had prior to joining the EPF, or on day 45, which ever is the shorter, at no cost to themselves".
According to the NSCC, the omission of the commitment to refund charges upon early payment in the generic documents, plus a number of other contractual conditions, means the scheme leaves subcontractors open to a series of potential pitfalls:
If the EPF is terminated at any time, a subcontractor's payment terms revert to 120 days, not the 65 days they would have been paid on prior to the launch of the scheme
Subcontractors in dispute with Carillion will not able to claim that a dispute has crystallised until 120 days, meaning they will not be able to seek adjudication until this time
The relevant banks – Lloyds and RBS – will be allowed to offset amounts owed to them by the subcontractor against debts to the subcontractor held under the EPF
In addition, the NSCC said it has been told by Carillion that its banking facility is not large enough to extend the EPF to all of its suppliers.
A Carillion spokesperson denied this, saying: "It has accommodated all requests to use the facility to date, and expects to continue doing so. Carillion is in discussion with a number of banks with the intention of adding further capacity given the popularity of its Early Payment Facility.
Carillion also refuted the NSCC's assertion that "it would appear that Carillion is seeking to extend its payment terms across the board." A spokesperson for Carillion said "Carillion is introducing 120 day terms but only in conjunction with offering the EPF."
NSCC chief executive Suzannah Nichol said even if the scheme allowed subcontractors to be paid in 45 days, this was only perceived as 'early' because the firm's standard terms were 65 days.
She said: "The NSCC believes that 30-day payment terms are normal. We cannot see why Carillion has extended its payment terms to 120 days; it just complicates further an already complicated payment mechanism.
"A contractual payment term of 120 days is unacceptable both commercially and ethically."
She also criticised the complexity of the scheme: "It has taken us a while to understand Carillion's EPF and SIS. We have taken legal advice to interpret the various documents.
"It has taken a lot of effort and, if we have found it hard, I am not sure how a busy specialist contractor is supposed to understand it."
A spokesperson for Carillion said the NSCC's analysis was a broadly accurate in terms of describing how the scheme works in headline terms.
However, the spokesperson also said: "The NSCC's analysis tends to lose sight of the fact the Early Payment Facility is working because Carillion is willing to use its balance sheet to enable suppliers, and particularly SMEs, to gain access to funding at low interest rates that they are unable to get directly from banks, because banks will not lend to them.
"If you ask the 240 of our suppliers that have now signed up to this, they will tell you it is working."
NSCC's concerns – and Carillion's response

Termination of the EPF
NSCC: "If Carillion decides to end the EPF, specialist contractors will be stuck with 120-day payment terms on existing contracts."
Carillion: "Should there be any fundamental change to the EPF, Carillion would seek to renegotiate terms with its suppliers."

Incentive payment to cover EPF charge
NSCC: "Carillion could withdraw [its commitment to cover EPF charge] at any time or reduce the amounts payable. In this event, specialist contractors would either have to accept payment on 120-day terms or pay bank charges for taking early payment."
Carillion: "Carillion agrees with its suppliers that it will make incentive payments, but does not publish details of individual supplier agreements, because these are commercially confidential."

Extent of the scheme
NSCC: "Carillion has confirmed that it does not have the facility to offer the EPF to all their suppliers."
Carillion: "Carillion has accommodated all requests to use the facility to date, and expects to continue doing so. Carillion is in discussion with a number of banks with the intention of adding further capacity."

General payment terms
NSCC: "It would appear that Carillion is seeking to extend its payment terms across the board even though not all of its suppliers will be able
to benefit from the EPF."
Carillion: "Carillion is introducing 120-day terms but only in conjunction with offering the EPF."

Conclusion
NSCC: "It could be a positive arrangement for both Carillion and its supply chain … However, there are a number of potential pitfalls for specialist contractors."
Carillion: "The NSCC's analysis is broadly accurate … However, it tends to lose sight of the fact the EPF is working because Carillion is willing to use its balance sheet to enable suppliers, and particularly SMEs, to gain access to funding at low interest rates."