Construction industry figures react to today's announcement in the Spending Review and Autumn Statement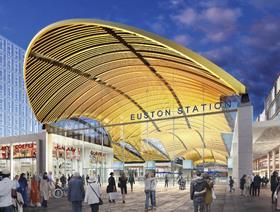 Industry has welcomed Chancellor George Osborne's commitments on housing and infrastructure in today's Spending Review.
The chancellor announced plans to build 400,000 affordable homes and double the public housing budget to £2bn, and also announced a new housing policy to build 135,000 homes under a new scheme called Help to Buy shared ownership, which will remove the restrictions on current shared ownership sales.
Osborne also made firm commitments to infrastructure projects such as HS2.
Housing
Crest Nicholson chief executive Stephen Stone said: "Crest Nicholson welcomes George Osbourne's commitment to build 400,000 new homes across England. We continue to see high demand across all of our UK developments, demonstrating that the market is equipped to receive an increased rate of housing delivery.
"However it is vital that the construction industry as a whole continues to address skills shortages, the key challenge facing our sector over the next five years. At our Work Experience Hub and Site Management Academy, and through our Apprenticeship and Graduate programmes, we are striving to build a highly trained workforce, capable of pushing forward with future growth."
Greg Hill, strategy and change management director at housebuilder Hill, said: "Extra funding for starter homes is great news for prospective homebuyers, and will undoubtedly help to get more first time buyers and young families on to the housing ladder. Shared ownership properties too are a great way for young people to buy a home without a large deposit. It is certainly the case that the size of deposit required to buy a home acts as a major barrier to first time buyers entering the housing market and these initiatives will go some way to addressing the problem.
"However, it still remains that a crucial issue over the coming years will be whether the UK housing industry is structurally able to supply the volume of homes needed to meet government targets. Planning reform, as well as greater investment in skills and training for careers in construction, are essential if the industry is to deliver the extra homes in the timeframes that Britain needs. We have a rapidly ageing workforce, with many tradesmen and skilled professionals due to retire in the next few years - the industry may struggle to deliver these 400,000 new homes if the gap in capacity is not filled.
Peter Quinn, Lovell director of business development, said: "We welcome any stimulus that will increase the supply of housing in this country. There are many parts of the country where we see great housing need and these measures will undoubtedly assist people onto the housing ladder, 'Starter Homes' will especially help the firs- time buyers wanting to purchase a Lovell home.
"However, we remain concerned that even this initiative will remain out of reach for those that cannot afford home ownership, and we need to continue to develop affordable rented housing especially in high value areas."
John Hicks, director and UK head of government and public at Aecom, said: "Given the urgent need to house the UK's current and future workforce, we welcome the initiative to build 400,000 affordable homes and the Chancellor's response to the difficulties faced by the shared ownership sector following the changes to Right to Buy.
"Government investment in Ebbsfleet Garden City and other schemes will further fuel housing growth. However, accelerated home ownership must not come at the expense of the affordable rental sector. History shows that supply has only increased through a balanced, multi-tenure approach."

Melanie Leech, chief executive of the British Property Federation, said: "This could be a seminal moment for the Government, and the start of a building programme that actually delivers. By committing billions of pounds to building new homes, Government is really putting its money where its mouth is, and has set itself some ambitious targets that it must not fall short of.
"Today's announcements mean nothing unless Government invests simultaneously in placemaking, and it must not be blinkered in its pursuit of new homes if it wants to create sustainable communities at the same time."
Infrastructure
Mark Naysmith, UK COO and MD for transportation, infrastructure and property at WSP Parsons Brinckerhoff, said: "Huge projects and 400,000 homes is great news for the UK's sustained economic growth, but they do not build themselves. We can only get Britain building by urgently attracting and training a skilled workforce to deliver much needed new infrastructure.
"On this matter the Government is supporting our recruitment efforts through its firm commitment to apprenticeships and large transport projects including HS2, rail electrification, road building and the regional development opportunities they bring. Political certainty and stability remain our industry's lifeblood.
"Where this is lacking - as remains the case with energy efficiency and airport capacity - investors cannot plan for the future with the same confidence. However, overall today's statement is definitely a step in the right direction for the industry."
CECA chief executive Alasdair Reisner said: "Today's announcements are good news for the construction sector, formally committing funds to vital infrastructure projects such as HS2, the Northern Powerhouse and London wide transport.
"The confirmation of funding for key projects will enable the construction industry to plan for the future to deliver strategic projects in an innovative and efficient manner."
Temple managing director Chris Fry said: "Today's announcements reinforce the strong direction of travel for the UK's infrastructure renaissance and also provide new impetus to housing supply. The announcements also provide a fantastic opportunity for infrastructure and housing to be progressed hand in hand at many key locations, an example of sustainable development which can deliver tangible social and economic benefits.
"An integrated approach has to be more cost effective in the long run and should provide communities with 21st century transport and energy solutions built in. The trick now will be in how these infrastructure and housing projects are planned and implemented so that they add to the quality, and also the resilience, of our towns and cities".
Institution of Civil Engineers director general, Nick Baveystock, said: "The Chancellor's commitment to capital investment for new infrastructure projects - combined with the drive to increase devolution, innovation and apprenticeships - provides a strong platform for the next five years. The recently established Infrastructure Commission will also ensure that plans for new infrastructure are based on unbiased analysis of our needs.
"We hope to see the same level of commitment from Government in maintaining our existing infrastructure - we await more detail on how the cuts to operational budgets will affect funding for the upkeep of flood defences and local roads. We must maintain a balance between capital and maintenance budgets if we are to deliver infrastructure that gives the right level of service and connectivity, operates effectively for as long as possible, and helps to support a prosperous economy."
Richard Threlfall, KPMG's head of infrastructure building and construction, said: "Today's Spending Review is good news for infrastructure. The Government has again prioritised capital spending, and put serious money behind its commitments to HS2, the Northern Powerhouse and transport in London.
"However, this is tempered by the 37% cut in the Department for Transport's operating budget which surely raises concerns over the Department's capacity to drive forward its substantial pipeline of projects.
"There also remains a huge inconsistency between the slick sound bite of devolution revolution and the reality that it is central Government is still signing the big cheques and deciding which schemes it wants to support.
"Only when the Government transfers material control over tax revenue from the Treasury to the regions will we see real devolution of power and the ability of the UK's major cities to plan and deliver long-term programmes of infrastructure investment."
Energy
Ian Maclean, UK managing director for energy & industry at WSP Parsons Brinckerhoff said: "The industry has received a number of mixed signals and we need certainty of direction. Government's backing of nuclear and coal's phase-out by 2025 have been welcome steps forward. Coal provides a quarter of the UK's electricity, and the announcement that this will stop was a missed opportunity to explain in more detail how we are going to keep the lights on in 2025.
"The question remains whether gas alone could fill the gap. Nuclear is not a done deal and there's still time before construction begins at Hinkley Point, Wylfa and Moorside during which there can be further delays and disruptions. With COP21 now here we need to focus on having a long term energy plan to meet our carbon emissions target. The time has passed for short-term solutions, we need to start investing in energy storage technologies to support our renewable industry. Building Britain's future must be done in a sustainable way."