Firm has 7.5m sq ft of industrial and logisitcs space it plans to push out within the next five years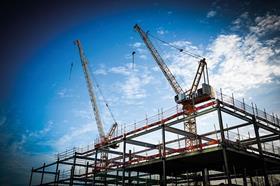 St Modwen has said it will increase its commercial development activity following a review of the firm last year.
The developer, reporting its latest fully year results, said it plans to grow the amount of industrial and logistics space it is delivering by up to 25% this year and will look to maintain this growth rate over 2019 and 2020.
The firm has identified 7.5m sq ft of industrial and logistics space with a gross development value of £700m, located mainly in the Midlands and South West, which it plans to accelerate delivery of over the next few years.
It is part of a longer term 17.3m sq ft pipeline of industrial and logistics space the firm has in its existing land banks.
St Modwen currently has a 1.6m sq ft committed pipeline of predominately industrial and logistics space, which has a total gross development value of £326m.
It added that it will also continue to progress its PRS and student accommodation pipeline of opportunities, but does not see itself building up a sizeable platform to manage these assets in the long term.
St Modwen also expects to dispose of many of its smaller assets and reduce it exposure to retail assets during the course of 2018 and has already agreed the disposal of £40m of such assets.
The firm, which also sold its stake in Nine Elms Square last year for £190m, reported a 10.8% increase in revenue for the year ended in November 2017 to £319m, up from £288m the previous year.
Profit before tax was also up 5% to £70.3m from £67m and. At the end of November, St Modwen's portfolio was valued at £1.7bn.
During 2017 the firm was also appointed as the developer for two large scale residential development schemes.
It will deliver 1,500 new homes at Wantage in South Oxfordshire and a new 3,000 home garden village in Buckover, South Gloustershire
St Modwen will also start a search for a new chairman this year after Bill Shannon announced his plans to step down from the firm last March.