Stirling Prize-winning architect sees off rival Witherford Watson Mann in final stage of competition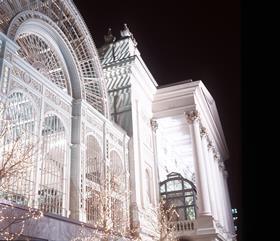 Stanton Williams Architects has won a competition to redesign part of the Royal Opera House.
The announcement marks the culmination of a six month competition involving seven firms.
The final two left in the running and working on a revised brief issued in December were the Stirling Prize-winning Stanton Williams and Witherford Watson Mann.
The 'Open Up' project will make the physical entrances and street level public areas to the building more "open and inviting" and will develop existing spaces, such as the Linbury Studio Theatre and Paul Hamlyn Hall, to make the work of the Royal Opera House more visible to the public.
The scheme, which requires further fundraising to be realised, also aims to reduce the energy use of the Royal Opera House.
Simon Robey, chairman of the board of trustees said: "Stanton Williams have demonstrated a clear vision for what the next evolution of our building can achieve showing sensitivity, skill and creativity.
"There is such potential to open our building to wider audiences throughout the day and we look forward to working in partnership with Stanton Williams to develop these plans over the next few months."
Other architects which took part in the competition include Caruso St John Architects, Amanda Levete and Thomas Heatherwick Studios.