Chairman of Hodder + Partners takes role unopposed
The chairman of architecture practice Hodder + Partners, Stephen Hodder, has been confirmed as the next president of RIBA.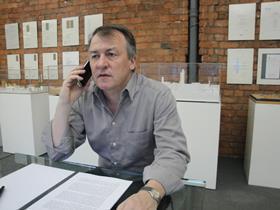 Hodder takes the position unopposed, after no other candidates emerged to trigger an election.
Hodder will become president elect on 1 September 2012 and will take over the two-year presidency from Angela Brady on 1 September 2013. He will be the 75th RIBA president.
Manchester-based Hodder + Partners has won over thirty major awards, including the inaugural RIBA Stirling Prize in 1996 for the Centenary Building at the University of Salfrod.
He is currently RIBA Vice-President for Nations and Regions and Design Review Panel member for both CABE and Places Matter!
Hodder said: "I am extremely pleased to be confirmed as President Elect of the RIBA. The RIBA is an ambitious organisation with a clear focus on its strategic priorities for the next five years and I look forward to helping to deliver an ambitious programme of work to support our members and encourage the wider public to greater appreciate the social and economic benefits good architecture can bring.
"As RIBA President, I will bring continuity to the great work already being delivered, from procurement reform to campaigning and cultural programming.
"I am particularly keen that we do more to promote the importance of collaboration between client, design and delivery teams – an essential partnership that can lead to more successful architecture. Even faced with challenging times, we can achieve so much."