Affordable straw homes made possible after components win certification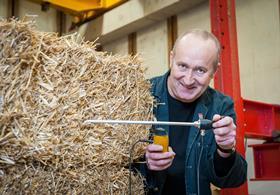 Affordable straw homes have been put on sale in Bristol this week, after component straw panels designed by engineers at the University of Bath received a vital certification of quality.
Seven townhouses built by developers Connolly and Callaghan using the straw panels - comprised of compressed straw inside timber frames - were put on the market.
The panels have been developed by the University of Bath in conjuction with products manufacture Modcell, and the panels have been awarded the Q Mark industry certification of quality, which is recognised by insurers and warranty providers.
To receive certification the straw panels were tested for energy efficiency, fire safety, durability and weather-resilience, including exposing the panels to heavy rain and extreme temperatures ranging from -20oc to 50oc.
The backers claim the straw homes will cut fuel bills by up to 90% compared to an equivalent brick-built house.