Work completed before contractor went under on Monday treated as unsecured debt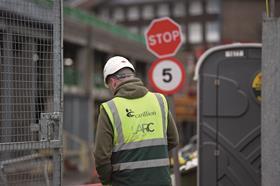 Carillion liquidators PwC have committed to pay for private sector work during the liquidation – but those who were already owed money by the fallen construction giant before it went under are out of luck.
In a meeting with business secretary Greg Clark, small business minister Andrew Griffiths and trade bodies, PwC's David Kelly confirmed it and Carillion would provide suppliers with commitment letters that guarantee payment for work undertaken and materials supplied during the liquidation process.
But Kelly also said work completed before Monday, when Carillion went bust, would be treated as unsecured debt, and at the back of the queue for payment.
He also said work had been paused on many construction sites until the situation could be evaluated but was unable to provide a timeframe for if and when work would restart.
Paul Reeve, the director of business at the electrotechnical and engineering services trade body ECA, said: "We have already heard from of hundreds specialist contractors, across construction and services, who are taking a major hit, and some may not survive.
"Everybody involved needs to work to prevent a repetition of this situation and part of that is a legal requirement to pay suppliers promptly."
Clark also confirmed banks had committed to provide those affected by the fallout with support and special arrangements and that HM Revenue and Customs would take a flexible approach to tax bills.
Building Engineering Services Association director of legal and commercial Rob Driscoll said: "We are encouraged that HM Revenue and the banks will take a sympathetic, long term approach with specific provision for those hit in the wake of the Carillion crisis.
"We are, however, very concerned that the negative impact on thousands of unsecured SME supply contractor creditors will be unsustainable, creating tension with the government's industrial strategy."
In an update on the crisis, specialists champion SEC Group warned that "the estimates of supply chain losses keep going up by the minute" and that "some of the losses could have been avoided if measures had been in place to provide security of payment to carillion's supply chains".
It also laid out key recommendations to government to protect SMEs in the future, including supporting a bill on retentions, make Public Bank Accounts a requirement and to guarantee prompt pay of supply chains.
SEC GROUP'S GOVERNMENT RECOMMENDATIONS
Insist that the Government supports the Construction (Retention Deposit Schemes) Bill ("the Aldous Bill") which had its First Reading on 9 January 2018;


Invite the Government to legislate to require that Project Bank Accounts are put in place for all construction works over £1m (in this regard legislation has already been implemented in Queensland, Australia); PBAs are currently mandated for public projects over £4m in Scotland, over £2m Northern Ireland and Wales (the latter since 1/1/2018). However, there is no mandate in England, only a 'strong recommendation'.


Invite the Government to issue strong guidance to all public sector procurers to operate a yellow/red card system: if lead contractors do not pay their supply chains within 30 days (as already required under the Public Contracts Regulations 2015) they should be barred from bidding for public sector works for a period of at least 2 years (this already applies in Northern Ireland).