New measures come into force on 1 November
The government has announced its replacement to the furlough scheme to support struggling firms over the next six months of covid-19 restrictions.
Under the Jobs Support Scheme, unveiled by chancellor Rishi Sunak in the House of Commons this lunchtime, the government will contribute to the salaries of staff who are working at least a third of their normal hours.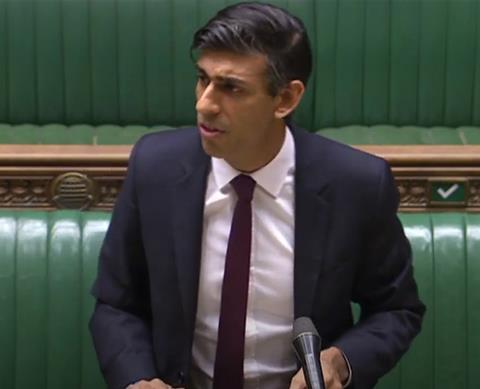 Employers will still need to pay the wages of staff for the hours that they work but the government and the employer will jointly increase employees' salaries to two-thirds of their usual wages.
It means employees who can go back to work but on shorter hours will still be paid two-thirds of the hours that they cannot work. So an employee working 33% of their hours will earn at least 77% of their usual pay, with 55% being paid by their employer and 22% paid by the government.
The scheme will run for six months from 1 November following the end of the Coronavirus Jobs Retention Scheme – otherwise known as the furlough scheme – on 31 October. It will be capped at £697.92 per month per employee.
> Construction workforce sees biggest drop in furloughed workers out of all sectors
It will be open to businesses across the UK, including those which have not previously used the furlough scheme.
Sunak said: "It is now clear, as the prime minister and our scientific advisors have said, for at least the next six months the virus and restrictions are going to be a fact of our lives."
He added that while the government's primary goal of protecting jobs had not changed: "The underlying rationale must be different to what came before."
The boss of one major contractor, who asked not to be named, said: "For our industry, I think this is a positive while output is down."
Federation of Master Builders chief executive Brian Berry said: "The chancellor's new Job Support Scheme comes at the right time and will help to protect construction jobs that might otherwise be at risk.
"We know that small builders' workloads were severely impacted by the coronavirus lockdown, and growth since May has been sluggish. The critical test will be if homeowners can retain their confidence during this testing period."
Scape chief executive Mark Robinson added: "Today's announcement will be welcomed in terms of protecting jobs [but] it's imperative that project owners and contractors do all they can to get the next wave of developments off the ground as quickly as possible."
Firms which use the Jobs Support Scheme will still be eligible for the Jobs Retention Bonus, under which the government will give employers a one-off payment of £1,000 for every employee they bring back to work from the furlough scheme and continuously employ until 31 January next year.
The equivalent furlough scheme for the self-employed, known as the Self Employment Income Support Scheme Grant (SEISS) will be extended on "similar terms and conditions" to the new Jobs Support Scheme.
Self-employed workers will also be eligible for a taxable grant covering three months' worth of profits from November to the end of January next year up to a total of £1.875 per month.
A second grant for self-employed workers will be available from February 2021 to the end of April, which the Treasury said may be adjusted to respond to changing circumstances.
The chancellor (pictured) also announced an additional scheme known as Pay As You Grow, which will extend the repayment period for firms which took out a Bounce Back Loan from six to 10 years, nearly halving the average monthly payments.
And firms who are "really struggling" can apply to suspend repayments for up to six months.
Berry said: "The greater flexibility in the Bounce Back Loan repayments and the deferred VAT payments are welcome. As any small business owner knows, cashflow is king, and these measures are essential in order to protect our precious SME construction firms from going into liquidation."
He added: "If we are to 'build, build, build' our way to recovery, then we need these firms now more than ever."