Latest tender price forecast from Mace shows capacity shortages are starting to bite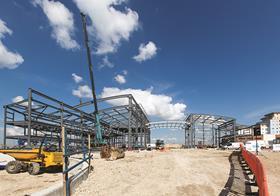 Pressure on suppliers is forcing tender prices further up, according to the latest tender price forecast from Mace.
Mace's report finds a shortage of contractors in London is driving up tender prices further, leading it to revise up its tender price inflation forecast in the capital for this year to 5%.
The firm held its projection for tender price inflation in London next year at 4.5% and for 2016 at 4%, while its projections for the regions remain at 2% this year, 2.5% next year and 3% in 2016.
Chris Goldthorpe, managing director of Mace's cost consultancy division, said: ""For the time being, the residential sector remains the market driver.
"We're seeing a number of previously shelved major projects in London brought forward by clients, which means that contractors are taking a more measured view about the jobs they go for and are reluctant to engage in projects that are perceived as risky, either from a procurement or a construction point of view."
Update: This article was originally published under the headline "Contractors now 'regularly turning down work", and was based on previous forecasts supplied by Mace. The article has now been amended to incorporate Mace's up-to-date forecasts.