AHMM's temporary Commons chamber due to be built by Lendlease could also be axed in cost-cutting drive
BDP and AHMM's £4bn plans to restore the Palace of Westminster have been thrown into doubt after a sweeping review was announced into the entire project.
Five years after a decision was finally made about how to protect Parliament's rapidly deteriorating home, every option is now back on the table.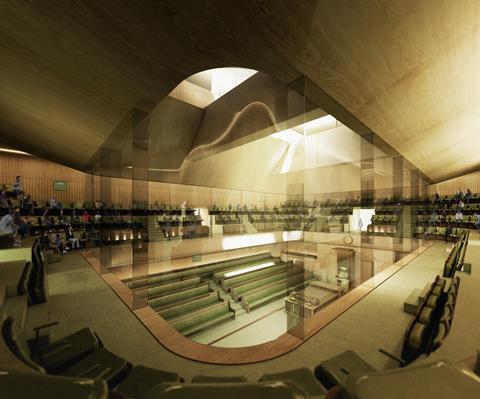 These include keeping the building open so repairs happen while MPs and peers continue working.
BDP has been appointed to carry out architectural and building design services alongside consultant CH2M, later bought by Jacobs, which is working on programme, project and cost management services.
If a full decant is dropped in favour of incremental work, then AHMM's plan to create a temporary Commons chamber in Richmond House – which went in for planning last November – would almost certainly be ditched.
Lendlease is due to carry out work on Richmond House, part of the £500m Northern Estate Programme which involves upgrading a number of offices across Westminster to house MPs and parliamentary staff while the Palace of Westminster is overhauled.
This part of the deal, which has been let separately to the Richmond House work and due to be carried out by Wates, involves restoring and upgrading several grade I and grade II-listed buildings in Whitehall.
Last night, the newly established sponsor body which will act as client on what is officially known as the restoration and renewal programme announced it will re-examine all the evidence behind the options developed five years ago.
The review is being couched as an attempt to ensure "best value for money for the taxpayer".
>> The heritage sector's survival depends on innovation
Insiders say Boris Johnson had already identified the project as a candidate for sacrifice when he won last December's election with an expensive infrastructure project in London not seen as fitting with the regional "levelling-up agenda". Reports say House of Commons leader Jacob Rees-Mogg and new speaker Lindsay Hoyle favoured a review, with one light-touch proposal being costed at just £200m.
The review has been given impetus by the coronavirus outbreak which necessitates the development of new ways of working.
Under the agreement reached under former prime minister Theresa May in 2016, MPs and peers were due to move out entirely in this middle of this decade to Richmond House and the Queen Elizabeth II Conference Centre respectively.
Every year of delay has been estimated to cost £100m in ad-hoc repairs. The palace fabric is crumbling and the wiring is in such an alarming state that fire wardens patrol round the clock to prevent a Notre Dame-style disaster.
The review will consider and make recommendations on:
:: whether the current solutions present value for money
:: what compromises would need to be made to save money
:: what opportunities exist for a simpler, quicker and cheaper temporary accommodation
:: how ways of working developed in response to covid-19 affect options or requirements for temporary accommodation
The review follows a recommendation this month by the National Audit Office that the risks be addressed at this stage.
It will be led by Sarah Johnson, chief executive of the sponsor body, and is set to report to Parliament this autumn.
Johnson said: "The restoration and renewal of the Houses of Parliament will be the biggest and most complex heritage project ever undertaken in the UK, protecting one of the world's most recognisable buildings and likely to support thousands of jobs across the country.
"The sponsor body has been set up to ensure that the project is delivered in the most efficient way that delivers value for money."
She said it was "entirely appropriate" to pause now to consider the validity of recommendations made more than five years ago before either the sponsor body or the delivery authority it oversees was formed."
She added: "The House of Commons now contains many new members elected for the first time who may well take a different view of restoration and renewal from members in 2016. It is also a very different government which, even before the current crisis, had a clear set of priorities.
"The impact of the current health crisis on public finances and parliament's ways of working has made it even more essential that we review both the strategy for relocating the two houses and the scope of the restoration of the palace."
BDP and AHMM said they were unable to comment and referred all queries to parliament.
Parliament is falling down
The Palace of Westminster is falling apart faster than it can be repaired. Many features have not been renovated since it was built in the 19th century. The longer the essential work is left, the greater the risk of a catastrophic failure from fire, flooding or falling stones.
According to the National Audit Office, Parliament has spent more than £369m on maintenance since 2016. There is an increasing backlog of repairs estimated at over £1bn.
All the fire, heating, drainage, mechanical and electrical systems need replacing. Steam pipes run alongside electrical cables, and the sewage ejector system installed in 1888 is still in use today. Since the start of 2017 over 40,000 problems have been reported in the palace.
The project is expected to create employment and training opportunities in construction, engineering, design, and IT, as well as attracting those with specialist skills in carpentry, stonemasonry, metalwork, and heritage conservation.
Source: House of Parliament