Architect Eric Parry says response to 73-storey block is 'overwhelmingly positive'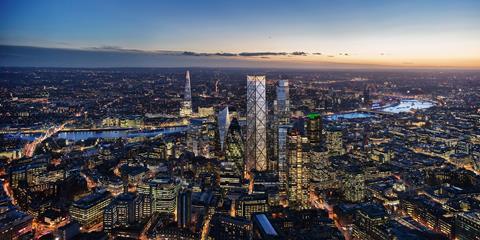 City of London planners are expected to make a decision on Eric Parry's proposal to build the tallest tower in the Square Mile this summer.
The height of the building at 1 Undershaft has been confirmed at 309.6m, eclipsing PLP's 278m tall 22 Bishopsgate tower – the new name for KPF's abandoned Pinnacle – which was recently unveiled by Lipton Rogers.
Parry's 73-storey tower has now been sent in for planning and will be built next door to RSHP's Cheesegrater. It will feature a new public square at its base as well as a public viewing gallery and restaurant at the top.
It will replace the 28-storey Aviva Tower – originally the Commercial Union building – which was completed in 1969 and designed by GMW Partnership, now owned by Scott Brownrigg. It was the first building in the City to be taller than St Paul's Cathedral.
Dedicated lifts will serve the public viewing gallery while space at the top will be given over to two classrooms for school parties to learn more about the capital.
Nearly 2,000 sq m of retail will be included in the plans while the reception lobby will be elevated allowing the public to walk underneath.
Parry said the main change following a public exhibition in December had been to enlarge the public square to give cyclists better access to the near 1,700 cycle spaces that will be included at the base of the tower.
He added: "The response to 1 Undershaft has been overwhelmingly positive. The enthusiastic support for the public viewing gallery and enlarged Public Square has been especially welcome as the tower has been designed to put the public first."
The tower will be open seven days a week with the 90,000sq m office block eventually home to 10,000 workers when it is finished.
Source
This story first appeared on Building Design