Turner & Townsend has won a role on the major expansion of Abu Dhabi International Airport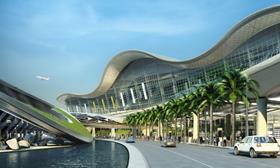 The consultant will provide cost estimating services, scheduling and risk management for the programme of works for the Abu Dhabi Airports Company.
The major component of the project is the Midfield Terminal Complex (MTC), a new 700,000m2 terminal featuring 20,000m2 of retail and food and beverage outlets.
Alongside the MTC, Turner and Townsend will also be working on programme management for the redevelopment of existing facilities.
Construction has already started, and completion is expected in 2017.
Turner & Townsend Middle East regional managing director Mike Collings said: "Turner & Townsend has built a reputation working on some of the world's largest infrastructure projects and has seen its business in this sector grow by 2/3rds since 2010-2011."
"Recognised for helping our clients to deliver ground-breaking schemes we are proud to add this new commission to our aviation profile.
"The Middle East is fast becoming a key hub for infrastructure and by leveraging our strong local capability, together with global knowledge we look forward to continuing to make a difference for our clients."
Turner and Townsend has previously worked with projects at Dubai and Oman airports, as well as London Heathrow and Brisbane.