Consultant will work on collections centre for nation's treasures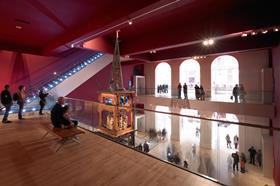 Turner & Townsend has won a contract to work on a new collections centre for National Museums Scotland.
The consultant will provide masterplan services and cost consultancy services during the relocation of thousands of items to the new storage facility in Granton, Edinburgh.
Objects earmarked for storage include dinosaur bones, the 40-foot skeleton of 'Moby' the sperm whale and 1.2 million insects.
Turner & Townsend associate director Jane Eckersall said: "It is an honour to be a part of this project, which will serve to protect National Museums Scotland's wealth of exhibits in state-of-the-art facilities for conservation and research.
"National Museums Scotland welcomes more than two million visitors a year, 50,000 of whom are schoolchildren, and presents visitors with a wealth of exhibits from applied arts to archaeology and natural science.
"It is a vital resource inspiring and connecting Scotland with the world, and the world with Scotland."