Self-employed to be paid up to £600 a month
Taylor Wimpey has unveiled a plan to support its supply chain through the coronavirus pandemic.
The volume housebuilder is set to pay £600 a month advances to the self-employed in its supply chain.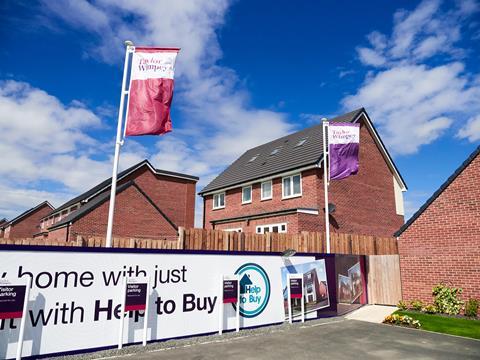 Taylor Wimpey has been piloting its "Pay It Forward" scheme over the past week and is now rolling it out with an initial £5m allocated for payments.
This is expected to be enough to support 2,750 individuals.
The firm said it was "prepared to extend it when it (scheme) is operating successfully."
Taylor Wimpey will make advance payments for future work done by subcontractors where there has been a long-term relationship.
The payments will be made from Taylor Wimpey, via its subcontractors, to self-employed individuals who either do not benefit from the government's self-employment income support scheme or who will experience significant hardship before that scheme starts to make payments.
Individuals must work for approved subcontractors and will receive a payment of up to £600 a month for three months, to be recovered against future work carried out for Taylor Wimpey.
There will be no interest charged.
Explaining its decision, Taylor Wimpey said it lost many suppliers during the 2008-10 financial crisis and did not want that to happen again. A source close to the business said it was designed to ensure that suppliers stay solvent and loyal to Taylor Wimpey during the covid-19 lockdown, ensuring it is able to restart work quickly when social distancing measures are relaxed.
Commenting on the policy David O'Brien, equity analyst at Goodbody, said: "In the current climate, prudent companies in the building sector are taking measures that will stand them in good stead when construction sites do eventually re-open.
"With the scheme capped at £5m and the group in a gross cash position of £807m (as of 23 March), the cost is not material. It will also help keep individuals from leaving the industry which will only serve to help operations when they start up again."
Taylor Wimpey is also extending access to its employee helpline to subcontractors, offering support and guidance on topics ranging from finances to wellbeing. The housebuilder was the first to announce it was shutting sites in response to Boris Johnson's "lockdown" announcement on March 23.