The RICS' Building Cost Information Service forecasts prices to rise by 28% over next five years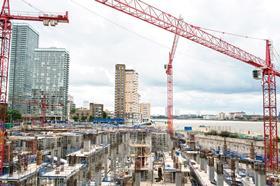 Tender prices rose by 2.4% in the fourth quarter of 2014 compared with the previous quarter, and by 7.1% on a year earlier, according to the latest report from RICS' Building Cost Information Service (BCIS).
A sharp increase in workloads for contractors drove them to increase tender prices significantly over the last three quarters of 2014. However, prices are expected to slow to more moderate increases in 2015 as contractors adapt to the increasing workload.
New output in construction is forecast to grow strongly over the next five years. As conditions improve, the BCIS predicts that new work output in the industry will increase by 6% in 2015 and 4% in 2016.
Growth is predicted to be slower in 2017 at 3% but is expected to strengthen to around 4% in 2018 and 201, an increase of around 20% since 2014.
The main drivers of the rise in construction output are likely to come as the result of continued growth in the private housing sector and growth in the private commercial sector, particularly in relation to the development of office, retail and leisure projects.
Peter Rumble, head of forecasting at RICS, said: "As workload continues to grow over the remainder of the forecast period, and with increasing pressure from resource costs, it is anticipated that tender price increases will rise between 4.5% and 6% per annum.
"Over the next five years, tender prices are forecast to rise by about 28%."