Survey finding follows data showing market contraction, falling share prices and deteriorating confidence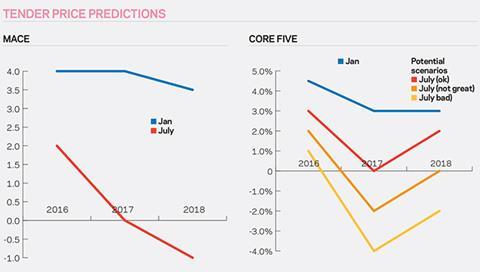 Consultants are warning that last month's decision by the UK to leave the EU will spark deflation in tender prices, a survey carried out by Building has found.
The Brexit vote has already led to housebuilders' share prices being shredded. In addition, a number of surveys - including one by the Riba carried out before the 23 June vote, which showed architects' confidence about future workloads hit by worries over a possible Brexit - have already pointed to a deterioration in economic activity.
Data from HIS Markit Purchasing Managers' Index - which asks manufacturers whether business activity has gone up or down - showed a fall to 47.7 in July, the lowest level since April in 2009. A figure below 50 indicates contraction.
This came after the Markit/CIPS index of construction purchasing managers fell to 46.0 in June, its lowest level since June 2009.
Now consultants have weighed in with their views, with firms agreeing the current construction cycle will come to an end because of the vote.
"The impact of Brexit and the uncertainty it's brought are just going to accelerate the cycle and the reduction in output is going to impact a little bit sooner," Steve Mason, director at Mace Cost Consulting, said.
Gardiner & Theobald's partner Gavin Murgatroyd added: "It's not a sudden drop like the recession but it is a fast forward."
Brexit has become a great trigger to look at the business case for projects

Simon Rawlinson, Arcadis
In London, Mace predicted deflation of -1% in 2018 after zero inflation next year. However, Turner & Townsend's managing director for cost management, Paul Connolly, took a different view. He predicted London would see 4% tender price inflation next year and the regions would see below 3% growth as hot spot areas such as Manchester started to see private sector demand diminish and local authorities reliant on EU funding struggle.
The uncertainty has caused London-focused consultancy Core Five to put out a spectrum of tender price predictions for London ranging from zero inflation to -4% for next year.
Brexit has become, according to Arcadis' head of strategic research and insight, Simon Rawlinson, a "trigger to look at the business case for projects". He warned about a potential devaluation spiral due to clients pausing jobs.
He added: "Everybody's already anticipating ahead of the event, which makes it a self-fulfilling prophecy and makes it really difficult to pull out of."
Connolly said he was concerned about the quickening of the slowdown in the residential sector and that political and economic upheavals would mean delays to infrastructure pipeline.
"At one stage, we were seeing that the economy was going to be diverse enough to handle a slowdown in residential but there is a risk that it won't necessarily connect properly with the upswing from some of these infrastructure projects and programmes," he said.
Consultants also expressed worries for those in the supply chain who were only just recovering from the recession; many reported substantial losses after adopting damaging pricing strategies in 2010.
"Most of the supply chain didn't really come out of the recession until 2012 and then went through a period of rapid expansion where they then looked to be more aggressive on profit, trying to control a tier 2 supply chain which was almost naming its price. Now they might flip back down to this slowdown again and that's very hard to manage if you're a tier 1 supplier," Connolly said.
It seems contractors are also likely to get the raw end of the deal with imported materials costs rising on the back of a weakened pound.
Mason said contractors' margins were likely to be squeezed but added that he expected them to be cautious about jobs they took on in the future.
"Contractors in the short to medium term are going to be fairly selective on the amount of risk they are prepared to take on. There have been a lot of legacy projects that contractors took on in the past [with] a lot of risk and I don't think they will do that again," he said.
Rawlinson warned that precautions needed to be taken to make sure the fallout from the Brexit vote did not "unleash the survivalist instincts that we saw from 2010".
Mace's latest tender price forecasts
London
National
2016
2017
2018
2016
2017
2018
Mace current forecast
+2.0%
0.0%
-1.0% +2.0%
-1.0%
0.0%
Mace pre-vote forecast
+4.0%
+3.5%
+3.0% +4.0%
+3.5%
+3.0%