BRE's Phil Clark refutes claims he knew magnesium oxide boards had been added to ensure Celotex product passed checks
A senior material testing technician has denied being aware that a fire test of a Celotex insulation product later installed on Grenfell Tower included extra components to ensure a pass, the inquiry into the 2017 fire has heard.
Phil Clark, former cladding test chief supervisor at testing body the Building Research Establishment (BRE), said that manufacturers of combustible materials were able to "sneak" extra components onto test rigs without inspectors knowing.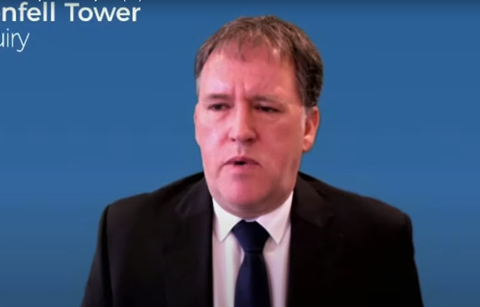 Clark was questioned about the May 2014 test of Celotex's combustible RS5000 insulation, which was used on Grenfell Tower's flawed refurbishment, on the first of several days of evidence from the BRE.
The test on the insulation, which was actually the same as an earlier product which had failed a fire test, passed after Celotex included 6mm magnesium oxide boards to resist the flames.
The added boards were omitted from both the BRE's official test report and Celotex's marketing literature for the product.
Two Celotex witnesses, former technical services officer Jamie Hayes and former assistant product manager Jonathan Roper, have told the inquiry that Clark had known about the extra magnesium oxide boards.
But Clark denied any knowledge of the boards, telling yesterday's hearing that "the reliance was very much was on the honesty of the client".
Asked by counsel to the inquiry Richard Millett QC how the boards, which were not logged in official BRE documents, had been installed on the rig unnoticed, Clark said: "Security guards would circumvent the system sometimes, people being people they would oblige as opposed to annoying the lorry driver."
Millett asked: "Does that mean it was possible for a test sponsor to sneak a piece of kit past the BRE and get it on to a rig without the BRE knowing?"
Clark said: "Yes, yes we weren't there all the time, some of these systems could take a week, week and a half … to complete.
"We weren't there 24/7. We didn't have a security guard on the door. So, yes, you're right they could have."
Millett asked if that meant Clark was not always sure what the precise make-up of the rig being tested was.
Clark replied: "I wouldn't say necessarily, no, but if you've got somebody who's going out of their way to deceive, then there was a possibility they could do that, if that was their intention."
Clark said that it was up to the client to prepare the test rig and it was not the BRE's job to "police necessarily to the nth degree" how the rig was being built, adding: "There's a large element of trust in everything we do."
Inquiry chairman Martin Moore-Bick asked: "Wasn't it essential for the BRE to know the composition of the system being tested?"
Clark replied: "I understand your question and the answer is from checking the delivery notes and checking and measuring on site.
"It wasn't common practice to insist on having them before the test, maybe it should have been, but it wasn't."
Millett asked: "Isn't the reality that you knew very well that there was a 6mm magnesium oxide layer behind it? You were in charge of this test, the photographs showed it was there, the deputy knew it was there, as they must have done, it would have taken time to put up and it was covered over by a perfectly obvious ruby-coloured band in two places of a material of a different thickness. Surely you must have realised what was behind it?"
Clark replied: "No, I would have reported it. And had I known it, I would have stopped the test."
Asked to explain how he could have not noticed the magnesium oxide board, Clark said: "This is what has been playing in my mind for a long time."
He added: "I would have returned to the burn hall the day before the test and would be running around instrumenting and all that sort of thing, and to this day I still can't think why I missed it. No, I can't account for that at all."
Millett asked: "One possibility, Mr Clark, is that you didn't miss it, and what Mr Hayes and Mr Roper have told the Inquiry on oath is correct and that you knew it was there."
Clark replied: "No, I didn't know it was there, no."
Millett said: "I'm putting it to you that you did?"
"I refute that, no," Clark said, later accusing Roper of "lying".
Roper told the inquiry last year that senior staff at Celotex had ordered all reference to the magnesium oxide boards to be removed from marketing literature, admitting that this amounted to a "fraud on the market". Celotex withdrew the test report in 2018.
The first phase of the inquiry into the fire, which killed 72 people in June 2017, found that the insulation included in the building's cladding system "more likely than not" contributed to the spread of flames up the side of the tower.
The inquiry continues.