Expert witness Barbara Lane queries decades-old testing regime
Government-approved fire testing regimes which are used to judge the safety of external cladding systems on buildings are based on how fire behaves when indoors, the Grenfell Inquiry has heard.
Expert witness Dr Barbara Lane told Tuesday's hearing that criteria used to classify the safety of external cladding systems was derived from "internal room fire phenomena".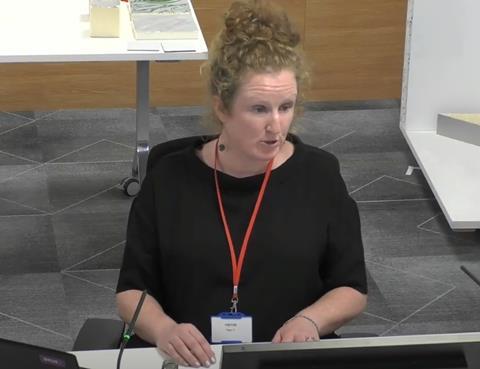 It came amid a forensic assessment of the flaws within the UK's fire safety testing systems over the past 70 years delivered by Lane (pictured), a fire safety expert who has spent nearly 19 years at Arup.
She told the inquiry that 'reaction to fire' test regimes referenced in Approved Document B of the government's building regulations as a measure of classifying the safety of building materials are based on how fire is expected to behave within enclosed rooms, not external walls.
She said: "The reaction to fire testing regime is associated with internal room fire phenomena, yet they are relied upon in the statutory guidance document to reduce the surfaces' susceptibility to ignition from an external source and to reduce the danger from fire spread up the external face of the building."
She added that the 'Class 0' specification for building materials, which supposedly marks a cladding system as safe to use on external walls, is actually based on two UK testing regimes used for internal fires.
The scope of the first regime, BS476 part 6, is for internal walls and ceilings, while the scope of the second regime, BS476 part 7, is for walls and ceilings.
Lane said that just one of the national 'reaction to fire' tests included in the government's statutory guidance tested the spread of flames over surfaces, and this only measured spread in a horizontal direction, not vertically, as would be expected in an external cladding fire as seen on Grenfell Tower.
She went on to detail how the definition of 'Class 0' for external cladding systems has "degraded with time" since its introduction in 1965.
The minimum fire performance for external walls was watered down in 1985 from requiring construction using non-combustible materials to materials of "limited combustibility".
In 1992, the definition of 'high rise' was also increased from 15m to 20m – although this was lowered to 18m in 2000.
She told the hearing: "Extensive work seems to have gone into defining these tests, how to derive results from them and how to rely on them to classify construction products and materials."
She added that it would be "of considerable interest" to hear from those that created and monitored the UK's fire test regimes and the companies which carried them out "their understanding of how those parameters were derived, how those parameters were relied upon, and how relevant they considered them to be to the fire performance of external walls".
Lane was speaking as the second module of the hearing into the tragedy, which killed 72 people in June 2017, continued its focus on the role of product manufacturers and suppliers.
The inquiry continues.