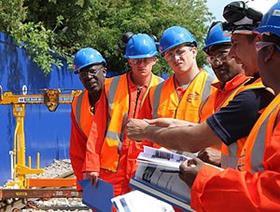 Wembley-based Cleshar Contract Services has been given Carillion's maintenance contract to look after London Overground's East London line.
Carillion's employees working on the existing contract will transfer to Cleshar when its contract starts on 1 April.
Transport for London said it was working with Carillion's liquidator PwC to finalise an agreement that enables Carillion to continue to fulfil the maintenance contract for the next eight and a half weeks until Cleshar's deal starts.
This agreement will guarantee Carillion employees' continued work and payment, TfL added.
The line runs from Highbury & Islington in the north through east London and the Docklands before finishing at West Croydon in the south.
Cleshar was set up 25 years ago and has a 1,400-strong workforce on its books carrying out maintenance work as well as trackside building and depot work.