View the highlights from Friday's debate chaired by George Alagiah with leading figures taking part such as Lord Richard Rogers, Nick Raynsford and Eric Pickles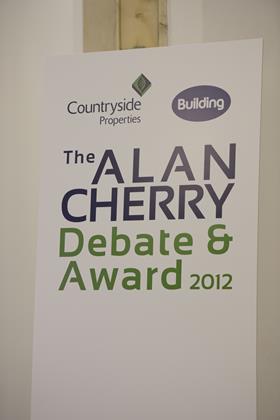 Last Friday saw the second Alan Cherry debate and award take place at the RICS Headquarters in Westminster, followed by an address from Eric Pickles, secretary of state for Communities and Local Government.
The event started kicked off with a panel debate as Lord Richard Rogers, interim executive director of housing and regeneration from the Greater London Authority David Lunts, former construction minister Nick Raynsford, planning consultant David Lock and Keith Bradley from architectural practice Feilden Clegg Bradley battled it out on issues ranging from the standard of UK housing to whether it's possible to design in quantity without compromising on quality.
As Lord Rogers questioned the standard of UK homes design describing it, on average, as the "the worst in Western Europe", Raynsford argued that there are examples of successful housing, and urban, design such as Greenwich Peninsula where he himself now lives.
Lock argued that this project, developed by a consortium including Countryside Properties and first mooted in 1997, would not be a sustainable or viable option in the current economic climate thanks to the cost of cleaning up the land ahead of the development.
The debate was chaired by BBC newsreader and journalist George Alagiah and expertly brought to a close on time after taking questions from the audience in order to make time for an address by communities secretary Eric Pickles.
Then came the second part of the event, the presentation of the Alan Cherry Award for Placemaking to Graham King, head of strategic planning and transportation at Westminster Council presented by Alan's sons Graham and Richard.
Thanks must go to Graham and Richard Cherry, the panellists, Eric Pickles and George Alagiah for making the event such a great success. A testament to Alan Cherry's exceptional legacy.