New Camden eatery features a cheese-based menu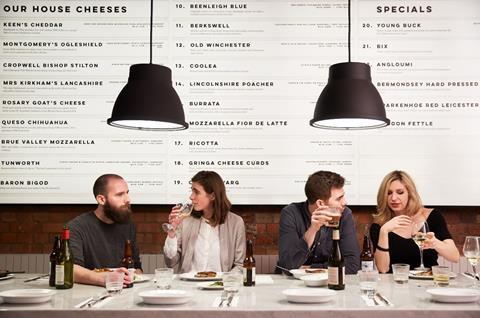 ISG and Kennedy Woods Architecture have completed The Cheese Bar's first permanent site in Camden Market, in north London.
The Cheese Bar founder Mathew Carver started the business in an old ice cream van, building a loyal following on the UK music festival circuit and subsequently crowdsourcing the funds to open his new restaurant and bar with its cheese-based menu. He exceeded his £100,000 target in five days.
Designed by Kennedy Woods Architecture, the new restaurant is situated in a roughly 70m² unit in one of the grade 2-listed stable blocks in Camden Market.
ISG's specialist joinery team managed the fit-out, including the bespoke manufacture of the bar and delivery of space-saving designs.
Mike Klosek, joinery director, ISG, said: "The Cheese Bar's first permanent home is a case study in how space and historical restrictions need not confine the ambition and quality for a new restaurant concept.
"We transformed the simple, but high quality palette of materials in our Whitstable workshop to create bespoke fittings and furniture that create a premium space true to The Cheese Bar's roots."
Tom Wood, director, Kennedy Woods Architecture, said his firm worked closely with Carver to define his brief, "and it became apparent from the outset that we needed to create a refined, unfussy identity that would allow the provenance and quality of hand-selected cheeses to take centre stage".