Madrid architect's colourful chrysalis pays homage to 15 years of commissions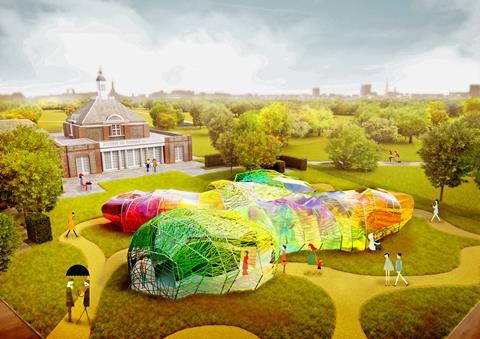 SelgasCano's design for this year's Serpentine Pavilion has been revealed.
The architect described the 15th pavilion as a tribute to all those that have gone before. Past pavilions have been designed by the likes of Peter Zumthor, Sou Fujimoto, Rem Koolhaas and Zaha Hadid.
The Spanish practice has designed a colourful, translucent chrysalis-like structure with multiple openings for the public to explore.
Visitors will be able to walk through a "secret corridor" between the outer and inner layers of the double-skinned structure and into a colourfully glowing interior.
The pavilion, engineered by Aecom, will be constructed from tinted EFTE panels woven into and wrapped in webbing.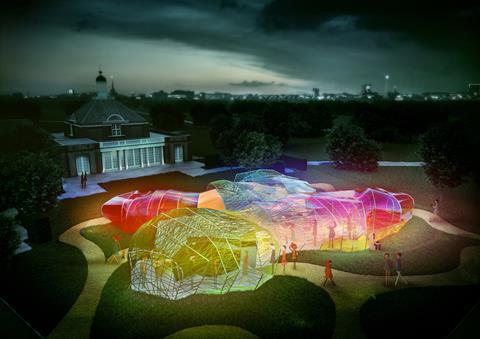 SelgasCano was founded by José Selgas and Lucía Cano in Madrid in 1998. Most of its built work is in Spain. It completed Second Home, a co-working space off Brick Lane in east London, last year.
The Serpentine said the practice fulfils its criterion that pavilion architects must not yet have built in Britain because that project was technically a refurbishment.
Julia Peyton-Jones and Hans Ulrich Obrist, co-directors of the Serpentine Galleries, said: "In keeping with their reputation for playful designs and bold use of colour, SelgasCano's structure will be an extraordinary chrysalis-like structure, as organic as the surrounding gardens.
"We can't wait to go inside to experience the light diffused through the coloured panels like stained glass windows.
"It will be a place for people to meet, to have coffee and to experience the live events we put on throughout the summer."
The 15th Serpentine Pavilion will open in Kensington Gardens on June 25 and remain open until October 18.
In their own words: SelgasCano
When the Serpentine invited us to design the pavilion, we began to think about what the structure needed to provide and what materials should be used in a Royal Park in London.
These questions, mixed with our own architectural interests and the knowledge that the design needs to connect with nature and feel part of the landscape, provided us with a concept based on pure visitor experience.
We sought a way to allow the public to experience architecture through simple elements: structure, light, transparency, shadows, lightness, form, sensitivity, change, surprise, colour and materials. We have therefore designed a pavilion which incorporates all of these elements.
The spatial qualities of the pavilion only unfold when accessing the structure and being immersed within it. Each entrance allows for a specific journey through the space, characterised by colour, light and irregular shapes with surprising volumes. This is accomplished by creating a double-layered shell, made of opaque and translucent fluorine-based plastic (ETFE) in a variety of colours.
At the heart of the pavilion is an open space for gathering as well as a café.
We are also very much aware of the pavilion's anniversary in our design for the 15th annual commission. The structure therefore had to be – without resembling previous pavilions – a tribute to them all and a homage to all the stories told within those designs.
Source
This story first appeared on Building Design here.