Job at Lipton Rogers building will include 1,700 lockers and 100 showers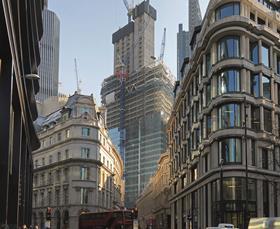 The first part of a deal that will eventually see 1,500 bike spaces built at the 22 Bishopsgate tower going up in the City of London is set to be awarded next month.
The 62-storey building is due to complete next July and will eventually be home to 1,700 lockers and 100 showers with more than 12,000 people eventually expected to work there.
The vast number of racks comfortably dwarfs the number in place at two of the City's most recent towers – the Shard, which has just 190 spaces, and the Walkie Talkie which has 410.
Firms believed to bidding for the £300,000 job, which is being let by main contractor Multiplex, include PFL Spaces, Bike Dock Solutions and Bike Storage Company.
The winning bidder will carry out work on the bike spaces and lockers only with the showers being installed by an M&E contractor.
Lipton Rogers, the developer on 22 Bishopsgate (pictured), is believed to be looking at using eye technology to process the number of cyclists expected to use the space at the building which will run over a basement and a half. The developer has said it "will set new standards in promoting cycling" and calls it "London's biggest bike park".
As well as bike spaces and showers, the facilities will include areas to iron clothes, a dry cleaning service, bicycle washing facilities and maintenance areas.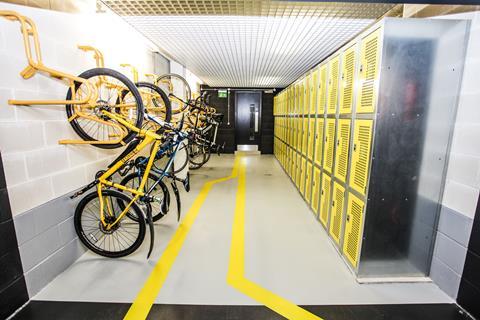 PFL has already been providing design advice on the scheme to project architect PLP and its co-founder Justin Sires said the firm has been approached to run the rule over 50 office schemes in the past 18 months in London alone.
Sires said: "There is a real demand for these facilities from tenants. For developers it is a real point of difference. Tenants want to make sure these facilities are what they need."
The firm, which was set up in Australia eight years ago and established a London office in Cheapside in 2016, is currently working on two British Land schemes – AHMM's 1 Finsbury Avenue which has 400 bike racks and 135 Bishopsgate by Fletcher Priest which will have 160 bike racks. Make's 27-storey tower scheme at 20 Ropemaker Street for Old Park Lane Management is believed be looking at fitting 750 bike spaces.
PFL also worked on Lendlease's Barangaroo office scheme in Sydney, featuring three towers designed by Rogers Stirk Harbour & Partners, which includes 1,200 bike racks, 1,200 lockers and 110 showers.