Firm set up by John Wood's sons hoping to take on 150 staff
Tolent founder John Wood and his two sons who helped set up a rival contractor after working at their father's business are hoping to save up to 150 jobs at the collapsed firm's Teesside operation.
The Gateshead-based business sank into administration last week after being set up by Wood in 1983. More than 300 people lost their jobs with administrator Interpath Advisory blaming rising materials costs, supply chain problems and a loss-making job for its demise.
Now Sunderland firm Brims Construction is looking to take on around £20m-worth of work at the stricken firm's Teesside business.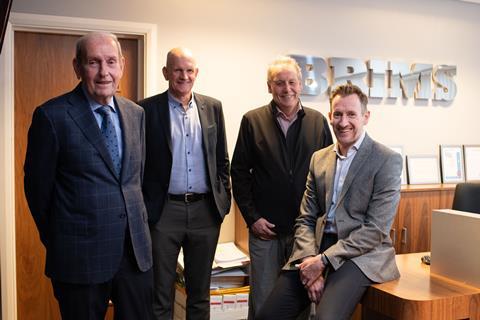 Wood retired in 2019 after overseeing the rise of a business that posted a turnover of £300,000 in its first year, climbing to £180m by the time he left.
The 78-year-old said: "It gives me great pleasure to be able to offer my help with these proposals, especially with Brims being central to it. It keeps the construction heritage alive under the Brims name and it will hopefully salvage some of the work that Tolent was previously involved with. We are confident that we will save as many site and supply chain jobs as we can."
Brims was set up 16 years ago by Ian Clift and Wood's sons Jason and Richard – all former employees of Tolent.
Brims said it would not be taking on responsibility for reimbursing any of Tolent's creditors but that Tolent's previous Teesside management team will be re-employed by Brims, along with staff, operatives and members of the supply chain.
Richard Wood said: "We are hopeful of providing secure employment for up to 150 employees moving forward.
"The former Tolent sites will be re-badged as Brims Construction and our sole aim is to save jobs with the minimum of disruption to clients. We have spent the last few days talking to clients and reassuring them that their projects will proceed as normal, with the people they have previously been dealing with. We are confident we can minimise any job losses by quickly stepping in this way."
Brims is forecasting turnover this year of £38m to the end of March and employs around 90 people.
Tolent's Teesside office was working on a mix of commercial projects including a rolling programme of petro-chem maintenance works.
Richard Wood added: "We are currently dealing with the administrator, in order to buy the Tolent Teesside office building at Thornaby and it is very much our intention to put firm roots down in Teesside."
Yesterday, the client on a mixed-use development in Durham singled out by Tolent's administrators as a major contributor to the contractor's collapse said it would finish the work itself.
The £85.5m Milburngate job had become "significantly loss-making" for the renowned regional contractor, having a "profound impact" on its working capital, according to Interpath.
Arlington Richardson, a joint venture of Durham-based property business Arlington Real Estate and the Richardson family, said it was "engaging directly with sub-contractors and relevant Tolent staff to ensure a timely end to construction work".