Brexit will be good because industry will have to come up with more sustainable business model, Brexiteers say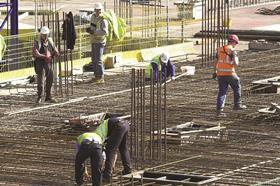 Brexit will mean the construction industry will have to give up its reliance on overseas labour and instead force it to plug the skills gap by investing in young talent, leading Conservative Brexiteers have told Building.
These Tory MPs believe the construction sector has been guilty of over-reliance on cheap Eastern European workers since the EU was expanded in 2004.
Within two years, more than 600,000 people came to work in the UK from the eight countries, such as Poland, that joined the EU, many of whom were builders.
The growth in overseas labour has led to fears that construction companies will struggle to build projects on time and to budget – with new research by London mayor Sadiq Khan showing that more than a quarter of workers – around 100,000 people – on London sites coming from the EU.
RICS president Amanda Clack has warned Brexit secretary David Davis that the UK is in the midst of its most acute skills crisis in 20 years, while several industry bodies have pointed that around 12% of the UK's 2.1m construction workers come from abroad.
But Conservative Brexiteers believe this will force construction employers to examine their own failures of under-investment in the domestic workforce.
James Cleverly, who sits on the House of Commons' influential international trade committee and the Conservatives' powerful 1922 committee, said: "There will be a few slight changes in attitude [as a result of Brexit], a realisation that investment in home grown talent in the building trade needs to go up and that the industry cannot just rely on importing artisans and tradesmen from across the continent.
"Whole sectors of British industry have underinvested in young domestic trades and I think construction is one of those areas. Brexit is a bit of a wake-up call that we should be investing in our own youngsters, so there is a pool of experienced talent in the building trade. This is one of the things Brexit has forced us to look at [domestic skills]."
Richard Bacon, the senior Conservative on the Public Accounts Committee, added: "Brexit will be good for the construction industry – and, indeed, for the country as a whole – because it will in due course require the industry to confront the fact that its business model has been far too dependent on an unending supply of foreign labour even though this has become politically, economically and socially unsustainable.
"The population of this country is over 5 million people higher than it was in 2004. It is not the bosses of the big construction firms who have directly to face and deal with the consequences of this significant change, in terms of the extra pressures on the health service, the schools system, the added pressure on housing, and so on. But someone has to.
"The construction firms need to build a sustainable business model that includes a much more focused effort on long-term recruitment, retention and training, to provide enough of our own skilled work force for the country's needs than we have seen in recent decades."
Last year communities secretary, Sajid Javid, hinted at the possibility of work visas for EU construction workers to make sure the industry gets "whatever it needs" in terms of labour to meet government housebuilding targets.
Tory MP Geoffrey Clifton-Brown, a former shadow international development secretary, added: "I think there will be a regime of work permits for industries where there is a shortage of labour, which will give industries time to make sure that initial skills gap is bridged."