King's Cross developer has linked up with US firm Related for the work
Plans by Stirling Prize winning architects AHMM and Alison Brooks Architects to revamp the Tottenham Hale area of the borough in north London have been submitted to local planners.
The wider Tottenham area is undergoing a huge transformation with Mace currently racing to finish Tottenham Hotspur's new football ground in time for the start of the new football season later this month while Lendlease is working on a nearby development for the council, a £1bn scheme called High Road West.
Now the developer behind the transformation of King's Cross has drawn up plans for a six building housing scheme featuring over 1,000 homes along with retail, office and leisure space.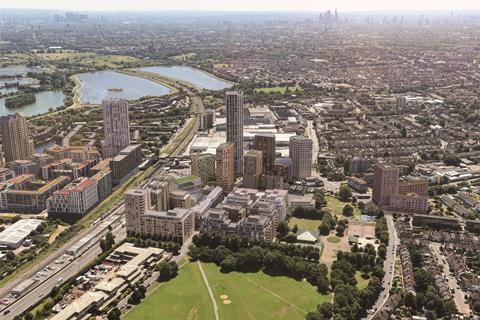 Argent has linked up with US developer Related with the pair entering in to an agreement with Haringey council for the work two years ago.
VolkerFitzpatrick is currently working on a £30m overhaul of Tottenham Hale station with the stop one of those slated to be on the Crossrail 2 line when that is built.
AHMM and Alison Brooks have been joined by Pollard Thomas Edwards and landscape practice Grant Associates which will be responsible for new public space which will include 75 trees.
Haringey, which last month binned Lendlease's controversial plans to build more than 6,000 homes in the borough under an initiative called the Haringey Development Vehicle, is due to consider the proposals later this year.