Facility on course to be first Olympic park venue to reach completion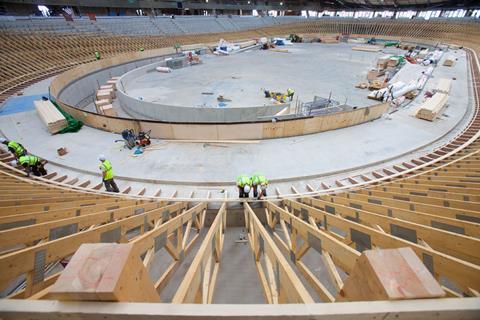 Velodrome Sept 2010
Images of progress on the Olympic velodrome were unveiled today by the Olympic Delivery Authority, which has installed a new webcam to track progress.
With the double-curved roof fitted and the building watertight, the timber cycling track is being fitted at the velodrome, which will seat 6,000 spectators for the track cycling events in 2012.
Construction work started on the velodrome in March 2009 and the venue is expected to be completed early next year, making it the first Olympic park venue to be completed.
The cycling track is intended to be the fastest in the world, which is to be achieved by tailoring the track geometry and setting the temperature and environmental conditions within the venue.
A team of 26 specialist carpenters are laying the 56km of surface timber, comprising sustainably-sourced Siberian pine, on top of the 356 vertical timber support trusses already installed.
The Siberian pine has been selected because the trees are straight and tall, making them suitable for the lengths of timber required to shape the track, while the extreme Siberian climate makes the wood very stable so that it will not shrink.
Seb Coe, chair of the London Organising Committee of the Olympic Games and Paralympic Games, said: "It is exciting to see the progress on the velodrome track. Cycling is a huge Olympic and Paralympic sport and this world-class venue will be a fantastic setting for spectators - hopefully inspiring many of them to try out the sport long after the Games have finished."
After the Olympic and Paralympic Games, the facility will be used by elite athletes and the local community and will include a café, bike hire and cycle workshop facilities.
The new webcam showing progress at the velodrome track can be viewed on the London 2012 website at http://www.london2012.com/webcams/velodrome-internal.php.