Move follows MPs' criticism for railway handing payouts to executives 'even as the programme was going off track'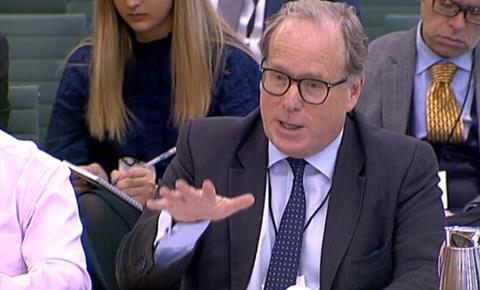 The government has promised a revamp of the bonus culture at major public clients in the wake of the outcry sparked by the perks handed to Crossrail executives including former boss Andrew Wolstenholme.
In the summer, MPs on the Public Accounts Committee (PAC) laid into the bonus culture on the job singling out the payments given to Wolstenholme who was handed bonuses totalling more than £640,000 between 2015 and 2017.
In their report, MPs said: "Crossrail Ltd continued to pay its executives bonuses, even as the programme was going off track.
"The Crossrail Ltd executive were paid large salaries and performance bonuses for managing a programme that, it is now clear, was not delivered successfully."
It followed a report in spring by the London mayor's office which damned Wolstenholme for querying why part of his bonus was not paid just months before it was announced the scheme would bust its opening deadline.
It said this "attitude [was] symptomatic of a culture that, while encouraging unchecked optimism, has also encouraged a denial of responsibility".
In its response to the PAC report, which has just been published, the Department for Transport (DfT) said: "The department is working with the remuneration committees of HE [Highways England], HS2 Ltd and NR [Network Rail] and with ministers to agree common principles for senior executive remuneration, which will help to ensure greater parity in the way remuneration committees hold executives to account for their performance."
It added that it had asked Highways England and Network Rail to "amend" their current performance-related pay structures to "improve the alignment between company performance and individual performance".
The DfT also said it would in future be keeping a closer eye on the bodies responsible for delivering major infrastructure projects in the wake of Crossrail's delays and budget overruns.
It has set up an initiative called Project Delivery Improvement Programme (PDIP) to review its management of arms-length bodies such as Highways England, Network Rail and HS2.
It added: "The PDIP project is currently reviewing the Department's oversight of existing delivery bodies to ensure that there are clear roles, responsibilities and accountabilities for project control and assurance between the Department and its arms-length bodies."
In May, Wolstenholme (pictured at the PAC) told MPs the job was on target to hit its original opening date of December 2018 when he left last March.
But new chief executive Mark Wild, who joined last November, has since said Crossrail won't be ready until March 2021 with one station, Bond Street, only due to open some time after that date.
And last month Crossrail chairman Tony Meggs told a Transport for London board meeting the job could be a further six months late and require another £400m to finish. Its current cost is £17.8bn – £2.8bn over budget.
Overall, the PAC report made six recommendations for the department, all of which the government agreed with.
PAC RECOMMENDATIONS
The Department and Crossrail Ltd should inform us as soon as they know when they expect the full railway to open.



Building on the recommendations in our April 2019 report, the Department and Crossrail Ltd should report to us every six months on:

• progress across the programme, including on the performance of contractors;

• how they are monitoring progress against the plan; and

• how they are countering the risk of optimism bias and assuring themselves that the revised schedule and cost to completion are robust

As it examines its other projects and programmes, the Department and its delivery bodies' commercial teams should review their commercial and contractual models, including where risk sits, to gain assurance that commercial and contractual approaches protect value for money.
(a) Before the end of the year, the Department should: carry out and publish the results of a full review of pay, including redundancy arrangements, at its delivery bodies
(b) Before the end of the year, the Department should: set out how it will ensure that remuneration in its delivery bodies aligns with the overall success of projects, and how it will maintain appropriate control and oversight of executive remuneration.


In order to assure itself about how its delivery bodies are managing major rail projects and bringing them into passenger service, the Department should better understand what a fully integrated plan comprises. To do this, it should build on the work now being done by Crossrail Ltd


The Department should examine whether its oversight of its existing delivery bodies provide it with appropriate accountability and governance arrangements over the life of programmes and set its arrangements out in accountability systems statements for its major programmes.