Productivity levels, software glitches and Bond Street continue to put question mark over railway's final cost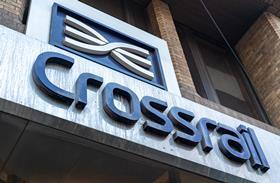 The chairman of Crossrail has admitted the scheme could be another six months late and need a further £400m to finish it off.
Tony Meggs told the latest board meeting of Transport for London, which is helping bankroll the job, that Crossrail's own scenario modelling "seems to support the possibility of a four to six month delay and a £300m to £400m overrun".
The railway had been due to open last December and was supposed to have an original budget of £14.8bn.
But the scheme now won't be open until some time between next October and the following March and has ballooned in cost to £17.8bn.
Meggs said there was a 20% chance the scheme could be £394m over budget and six months late but he told last week's TfL meeting that internal probabilistic modelling – or cost estimates – meant a £42m overspend was currently the most likely scenario.
He added that it expected to get this figure down to zero, telling board members: "There is a lot of opportunity to manage our costs down to within the [£17.8bn] cost envelope. There is a tremendous focus on making sure we do not have to ask for more money."
Software issues associated with the railway's complex signalling system, the productivity of contractors and the ongoing delays at Bond Street – Crossrail chief executive Mark Wild has already said this will only open after the rest of the central section is up and running – were the main reasons for the uncertainty over costs, Meggs added.
He said the productivity of its contractors "remains disappointing and is one of our biggest risks" – and added that Bond Street, being built by a Costain-Skanska joint venture, was giving Crossrail bosses a huge headache.
This is despite resources being thrown at the job, with 500 staff working around the clock to get it ready enough so trains can pass through it, as part of the trial running of trains Crossrail needs to complete before the line can open.
He added: "Bond Street remains a challenge for us. We are taking special measures there but we are still not in the clear, in terms of making sure we have Bond Street ready for the start of trial running in the first quarter of next year.
"Obviously even if the station is not completed – which it won't be – we have to make sure it is open for safety evacuation."
Over the summer Crossrail brought in a new management team for the job which a project spokesman said was to ensure "Bond Street reaches a sufficient level of readiness to support the start of trial running in the first quarter of 2020".