Euston stretch and later phases in the North to be hit by phasing change
Construction work on later phases of HS2 will be delayed by two years because of soaring inflation on the project.
In a written statement to the House of Commons, published this afternoon, transport secretary Mark Harper confirmed reports of a slow-down.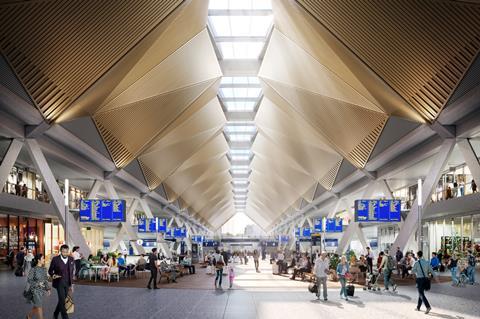 Harper said "headwinds" stemming from Russia's invasion of Ukraine and post-covid supply chain disruption had impacted the department's capital projects programme, saying some schemes would now "take longer than expected".
The reported cost of the first phase of the route is now £71bn.
Delivery of services on HS2 between Old Oak Common in west London and Birmingham Curzon Street will be prioritised by government, with the construction of Phase 2a between Birmingham and Crewe set for a two-year delay.
Harper said the government remained committed to running HS2 services into Euston but said it would "address affordability pressures to ensure the overall spending profile is manageable".
"We will therefore take the time to ensure we have an affordable and deliverable station design," he said, adding that this stretch of the line would be delivered "alongside high-speed infrastructure to Manchester".
Plans for Euston have already been subject to significant redesign, with its intended number of platforms reduced from 11 to 10.
Earlier this week, the chief executive of ground engineer Keller, which is carrying out around £250m worth of work on HS2, told Building it would be "senseless" not to go into Euston.
"It wouldn't make any sense at all," added Michael Speakman. "Not going to Euston is like stopping the Elizabeth Line halfway through London."
Legislation for phase 2b of the HS2 project, which links Crewe and Manchester, is currently going through parliament.
Meanwhile, one of the biggest road schemes will also be kicked into the long grass with the flagship Lower Thames Crossing, a £7bn tunnel and road scheme linking Essex and Kent, deferred for at least two years.
Industry reaction to delays to HS2
Jonathan Spruce, ICE Trustee for policy and external affairs
"Public infrastructure projects like HS2 are critical for economic growth, and meeting levelling up and net zero goals. They are an investment in our future, not a cost.
The UK needs to think strategically about what we want our transport system to deliver. In the longer term, a national transport strategy, with a clear investment plan, would help ensure that the country gets the transport infrastructure it needs; reliable ways to get where we need to go, in a way that's better for the planet."
Henri Murison, Chief Executive of the Northern Powerhouse Partnership
"While this decision to delay is a disappointing one for the country, we are relived that the most northerly section of the route between Crewe and Manchester will be protected as the section makes it way towards parliamentary approval.
HS2 is an investment in our future prosperity, which is why it's a mistake for the Treasury to put capital projects in the same category as day-to-day spending on items like welfare benefits. The Shadow Chancellor has a different proposed way of treating borrowing for investment – which could have avoided forcing this decision on the current Transport Secretary.
Delaying projects - whether it's train lines or hospitals - doesn't make them cheaper, it only holds back economic benefits and increases the overall scheme costs further in the long run.
We're paying a huge price for the endless dithering during Boris Johnson's premiership, and the wider damage done by cancelling the leg to Leeds, with still no plan for how to get services to Yorkshire and beyond."
High Speed Rail Group
"The High Speed Rail Group is alarmed by today's news that sections of HS2 will be delayed. The delay at Euston in favour of Old Oak Common coupled with the delay between Birmingham and Crewe by two years will not save money and will only add to the total cost of the project. Without clear timings on delivery between Crewe and the North West, millions will only be left behind again. The cheapest way to deliver HS2 is quickly.
Every cost element that make up HS2 rise each time the project is delayed. Constant uncertainty in Government breeds uncertainty in industry which does nothing to ensure efficient delivery.
Investment to upgrade our national infrastructure is imperative to achieve the economic growth needed for prosperity and opportunity. HS2 is the single largest infrastructure project in Europe and will bring the UK's cities and regions closer together. Delays and cuts cost the people of Manchester, the people of Liverpool and the people of Glasgow at a time where what Britain needs most of all, is economic growth. If you cut investment, you cut growth and that is what are seeing here."